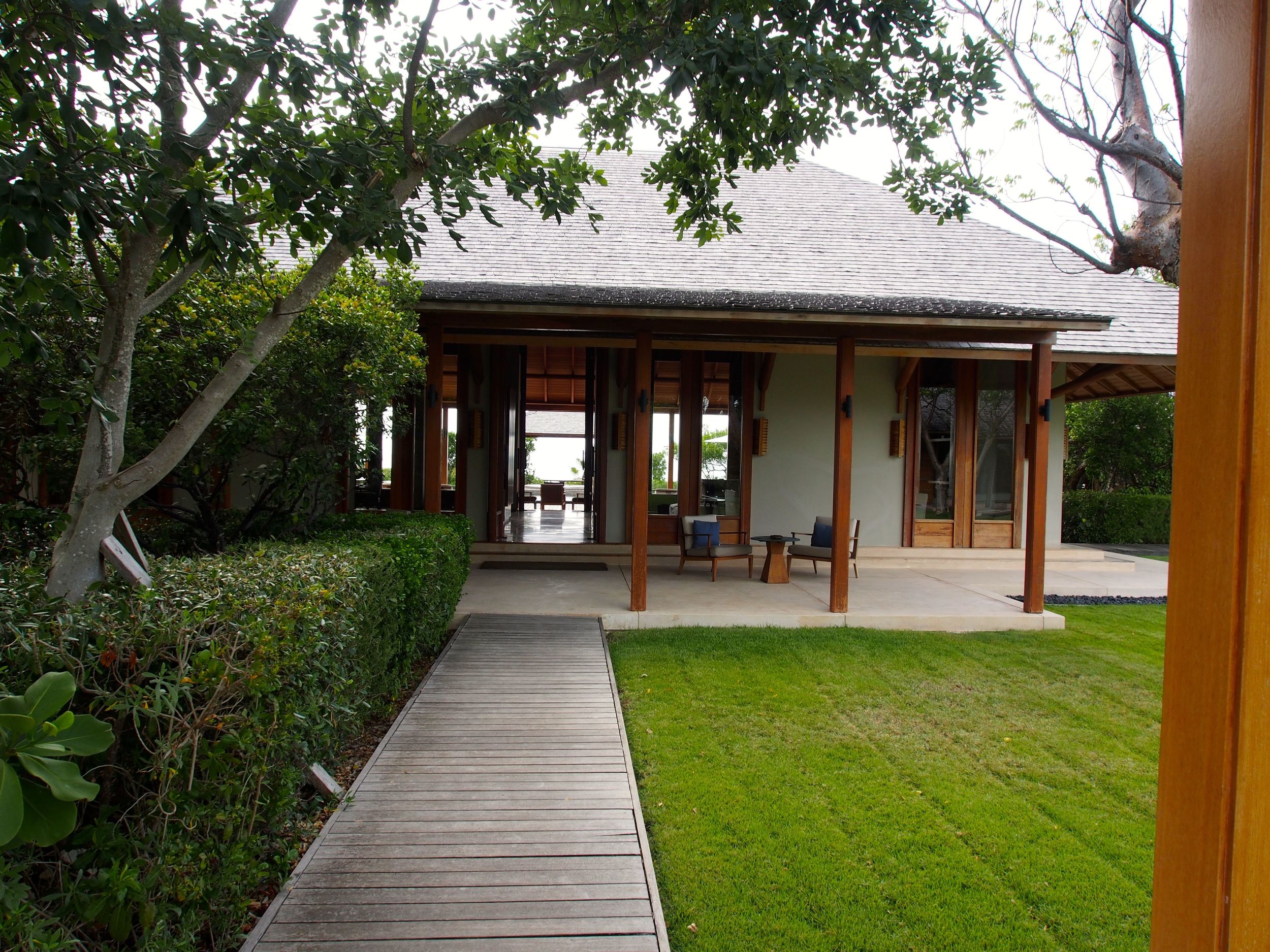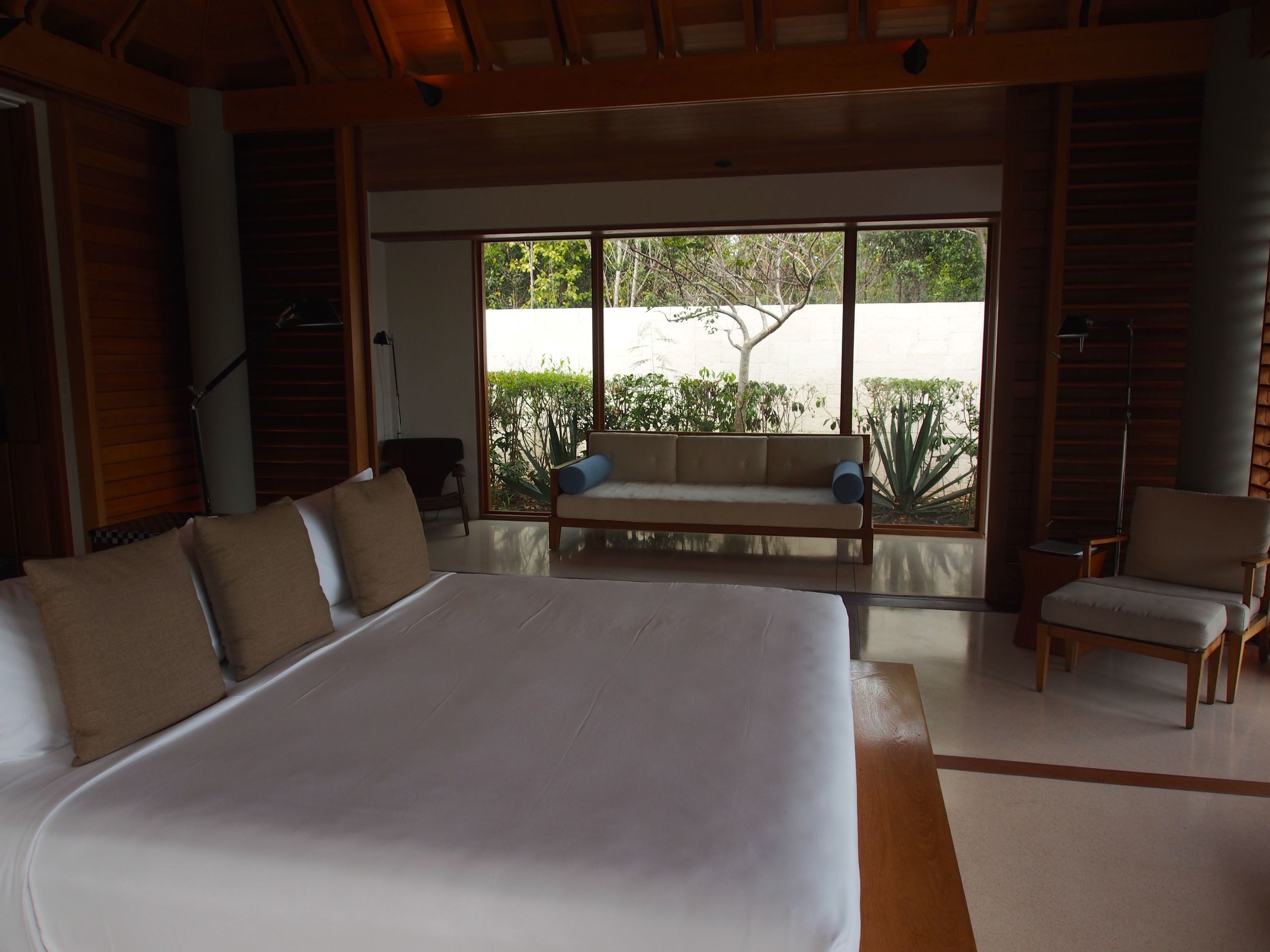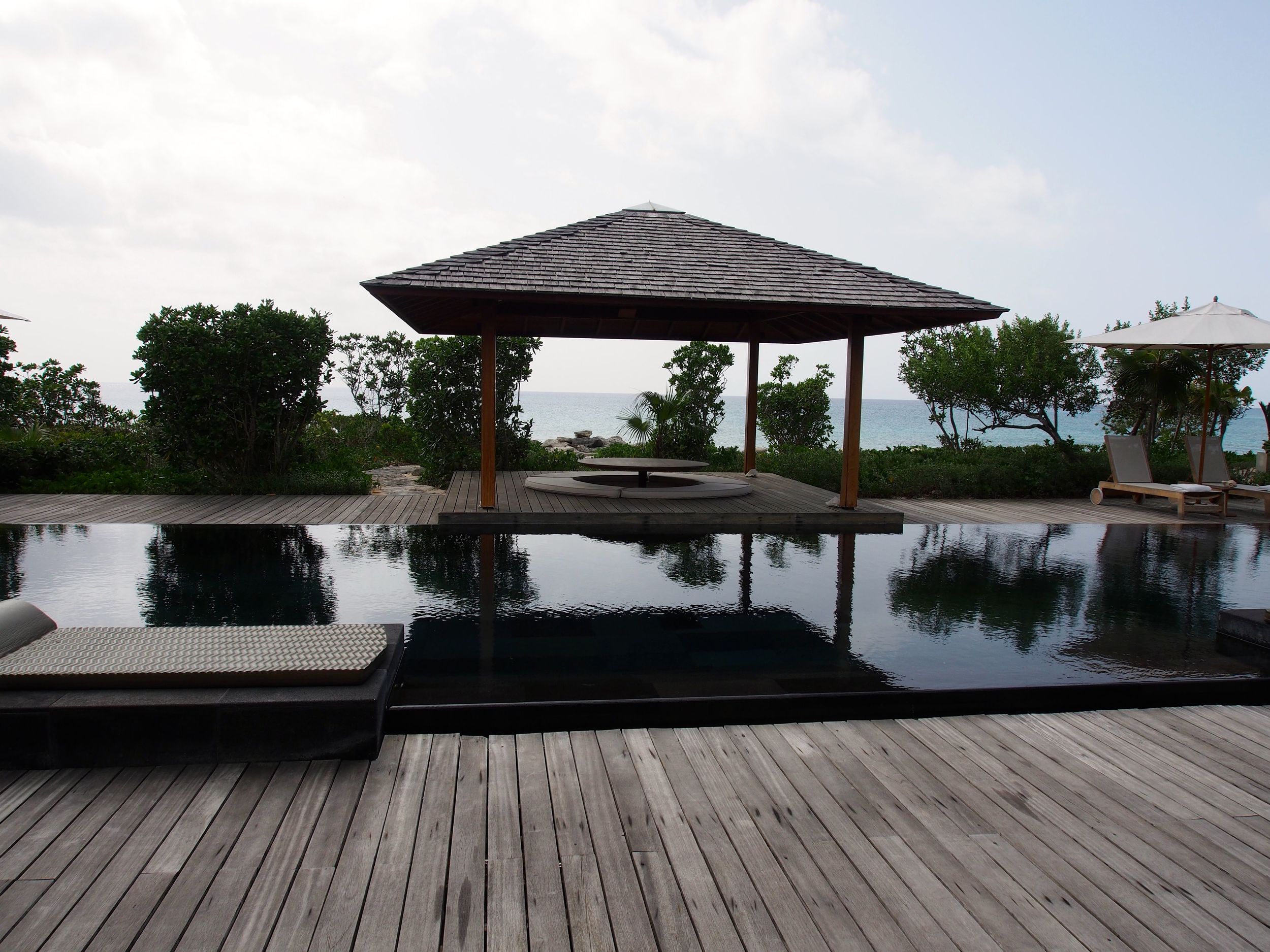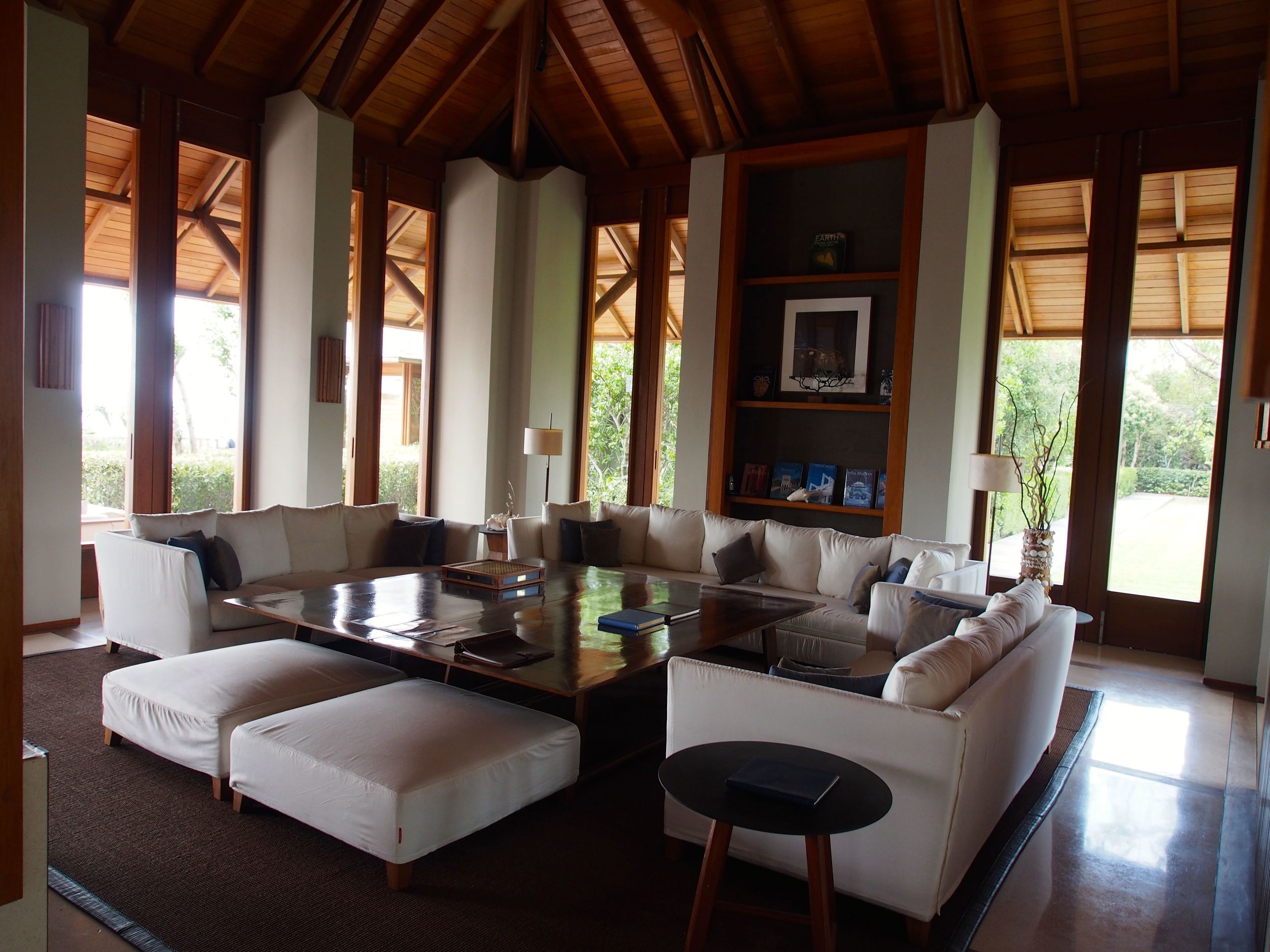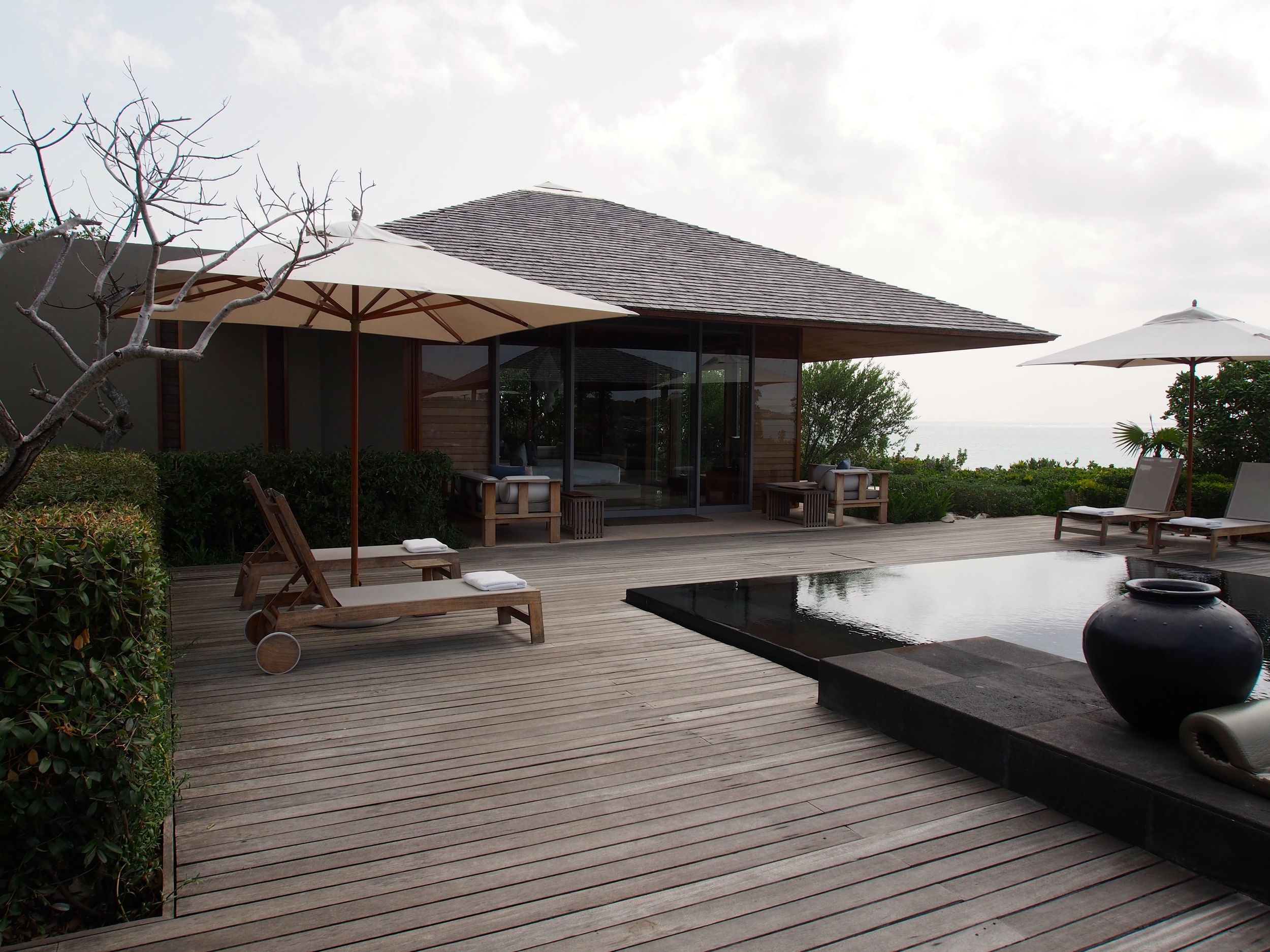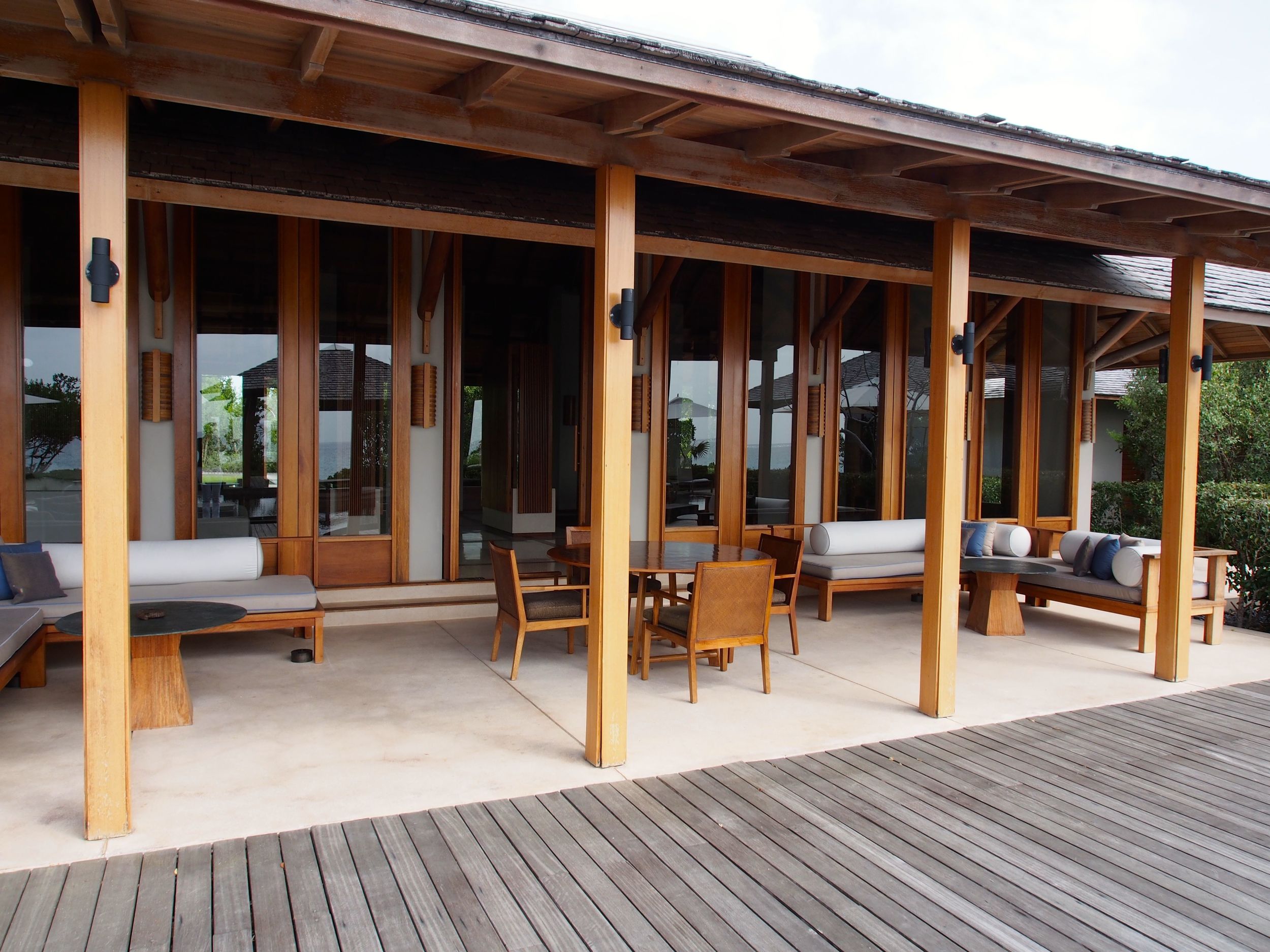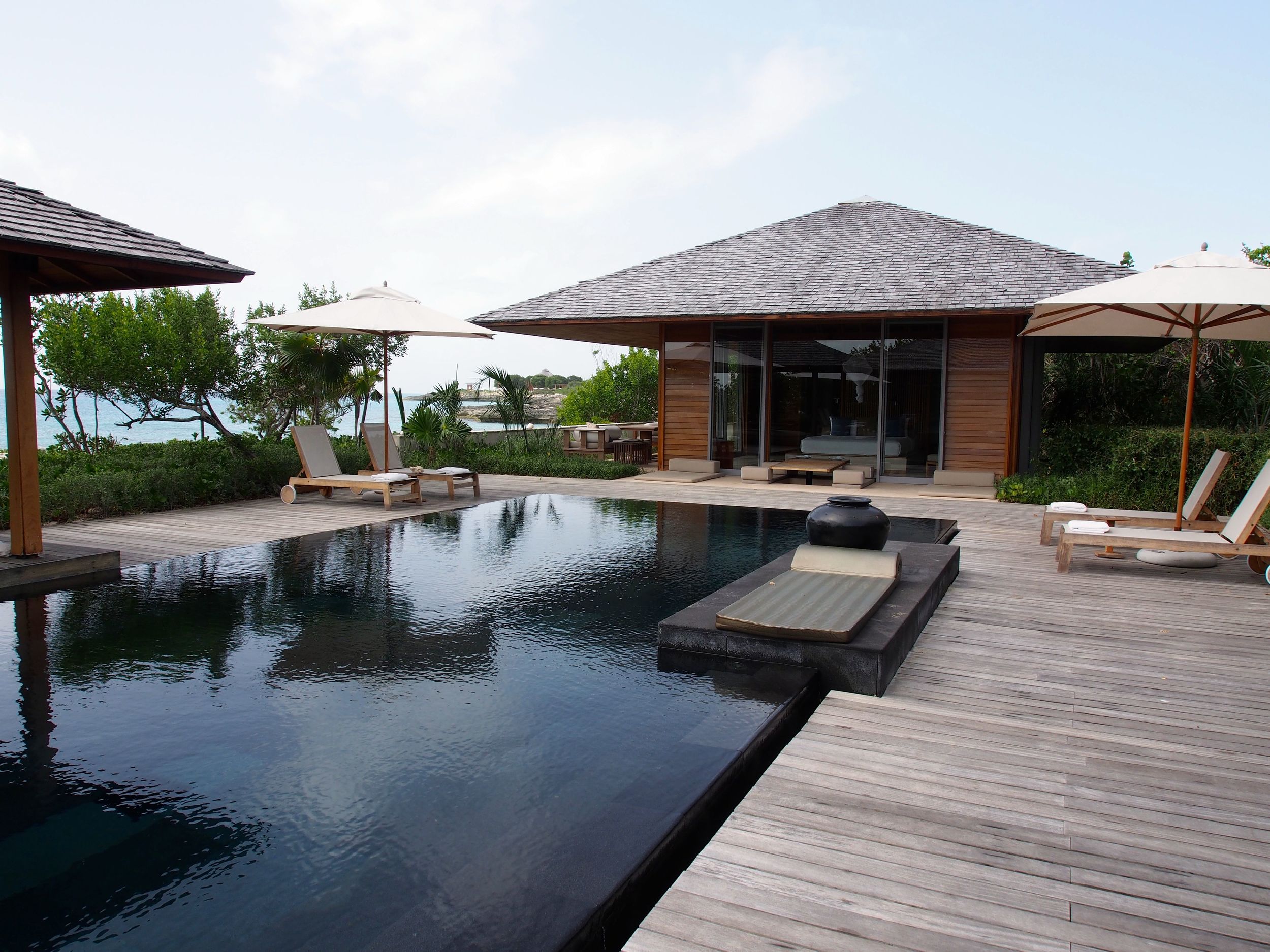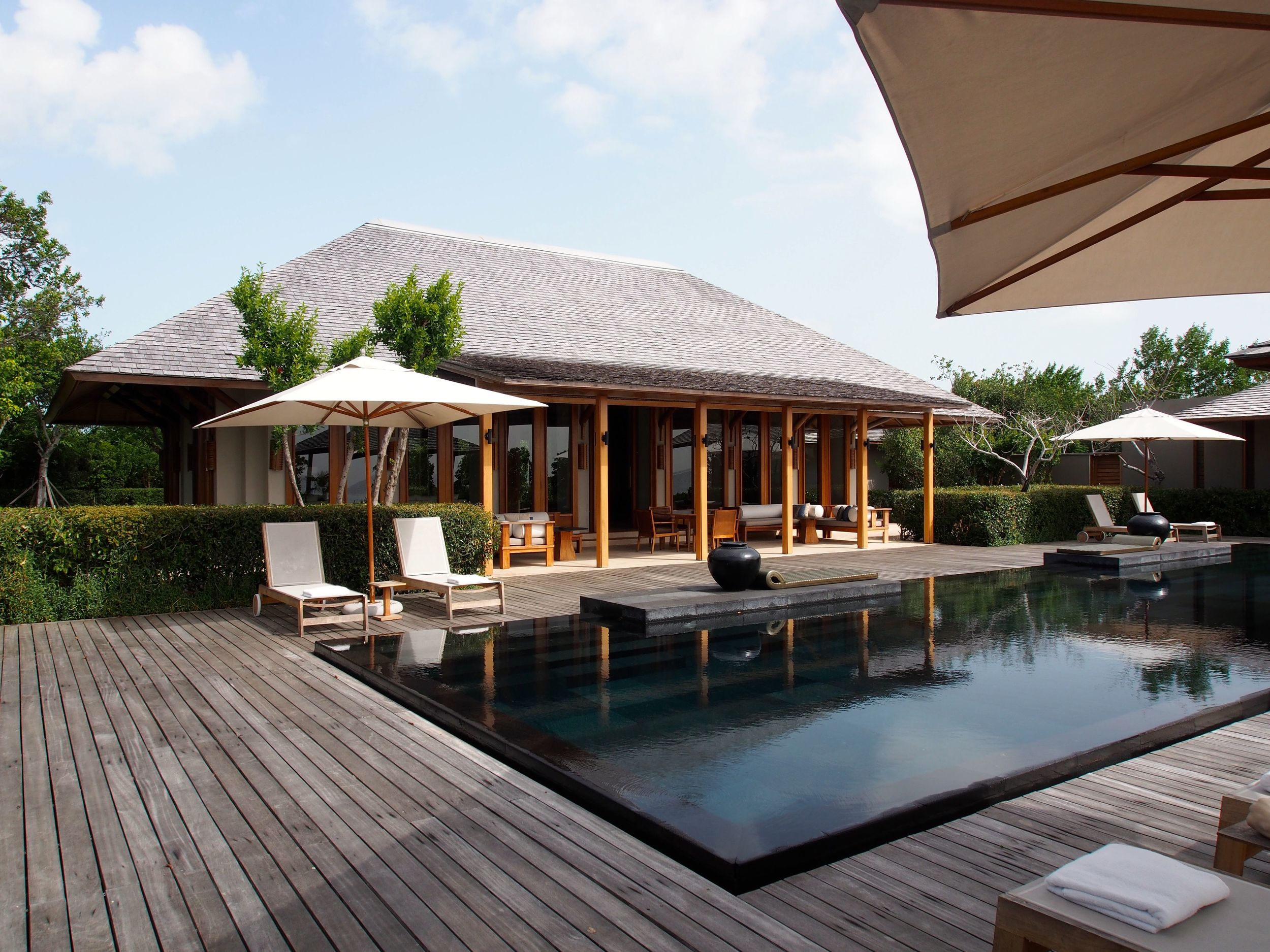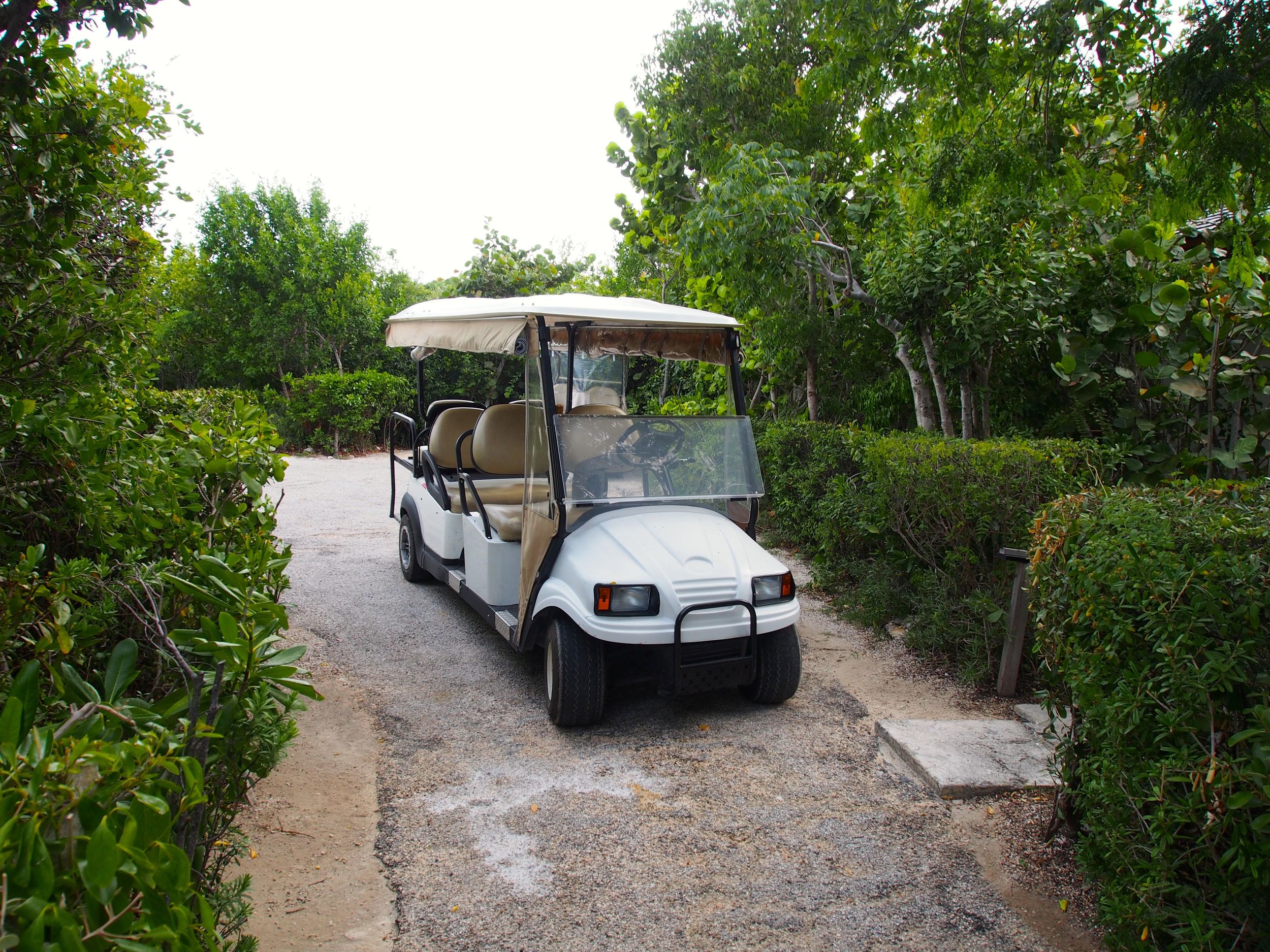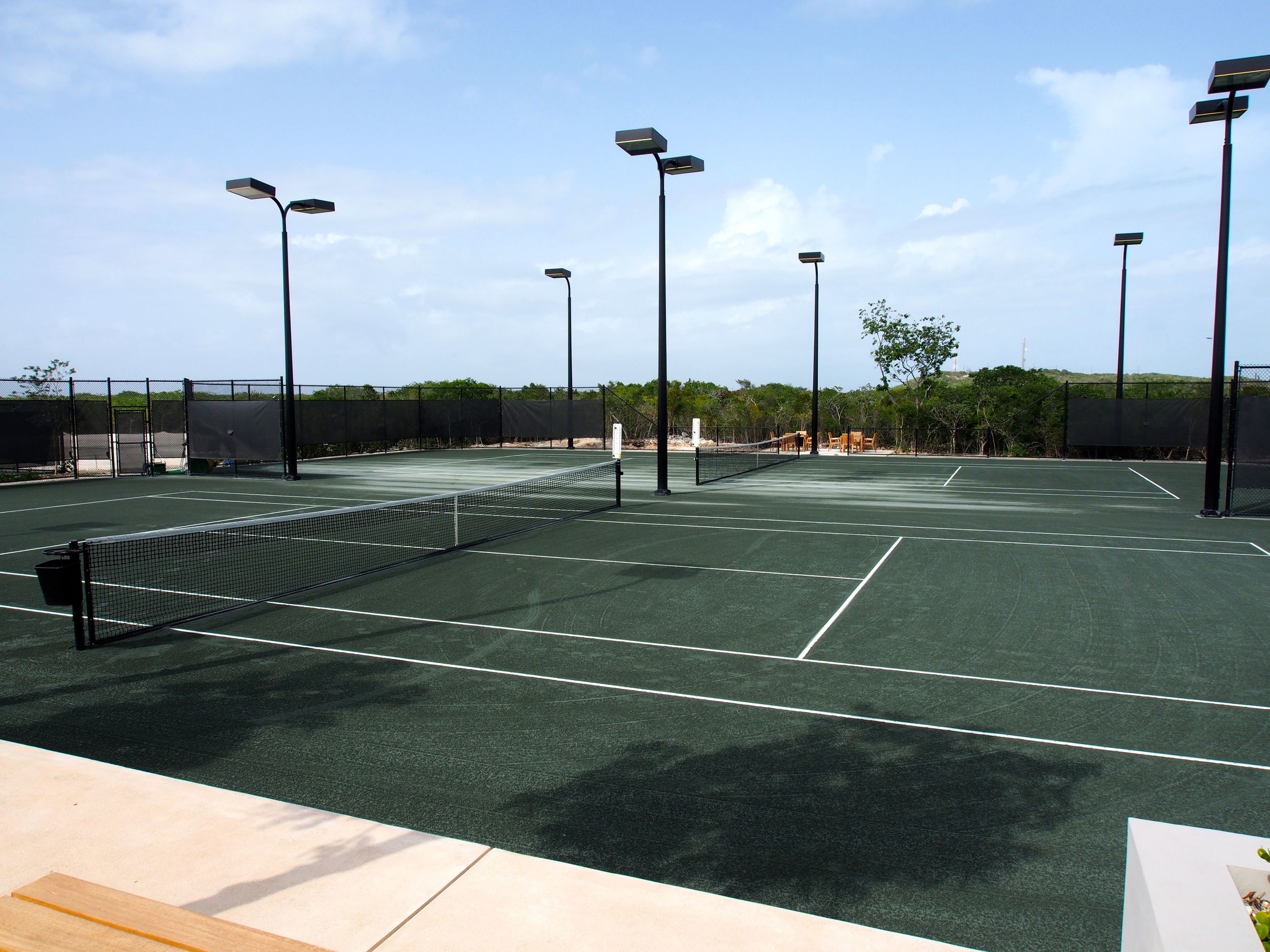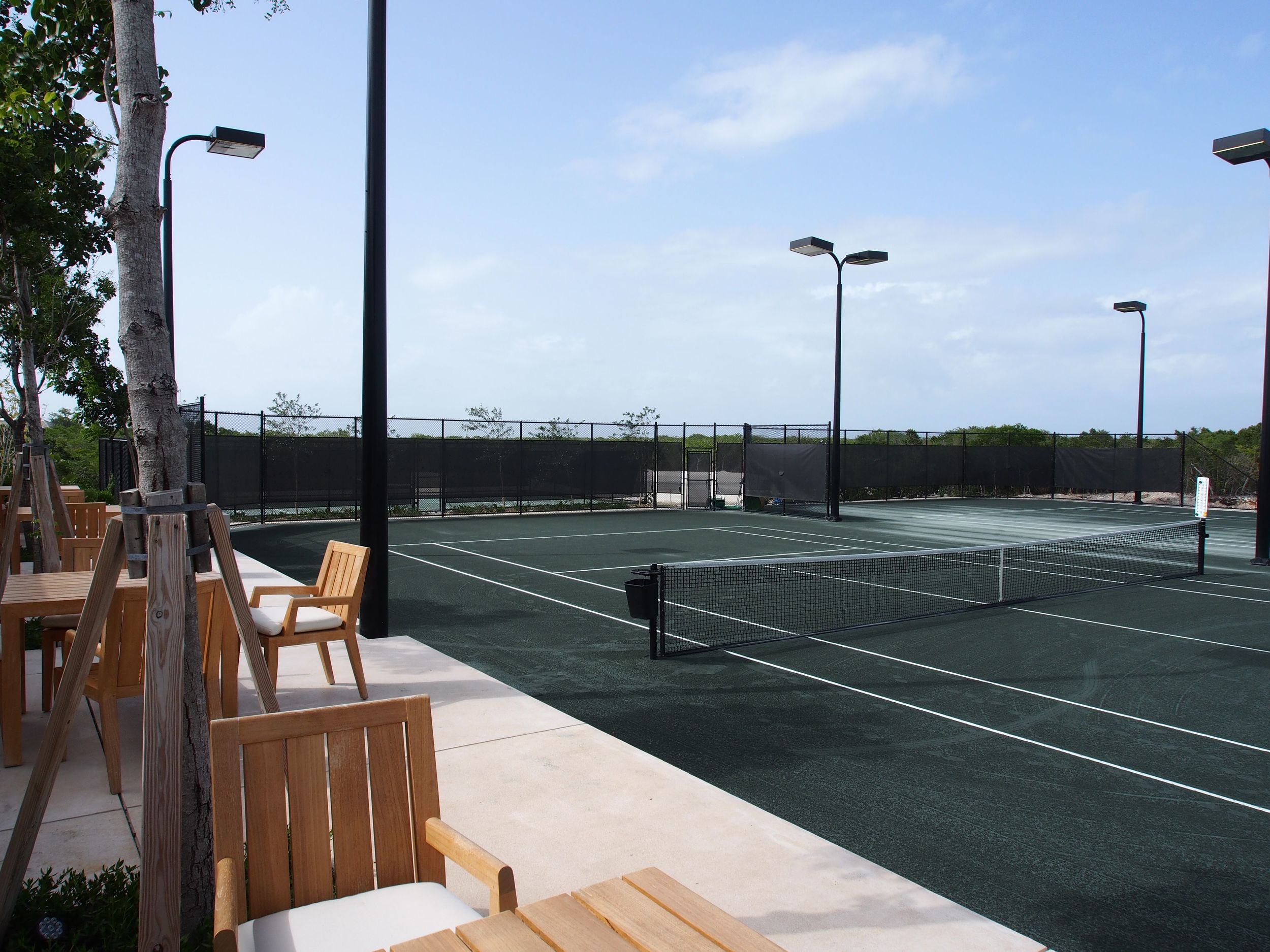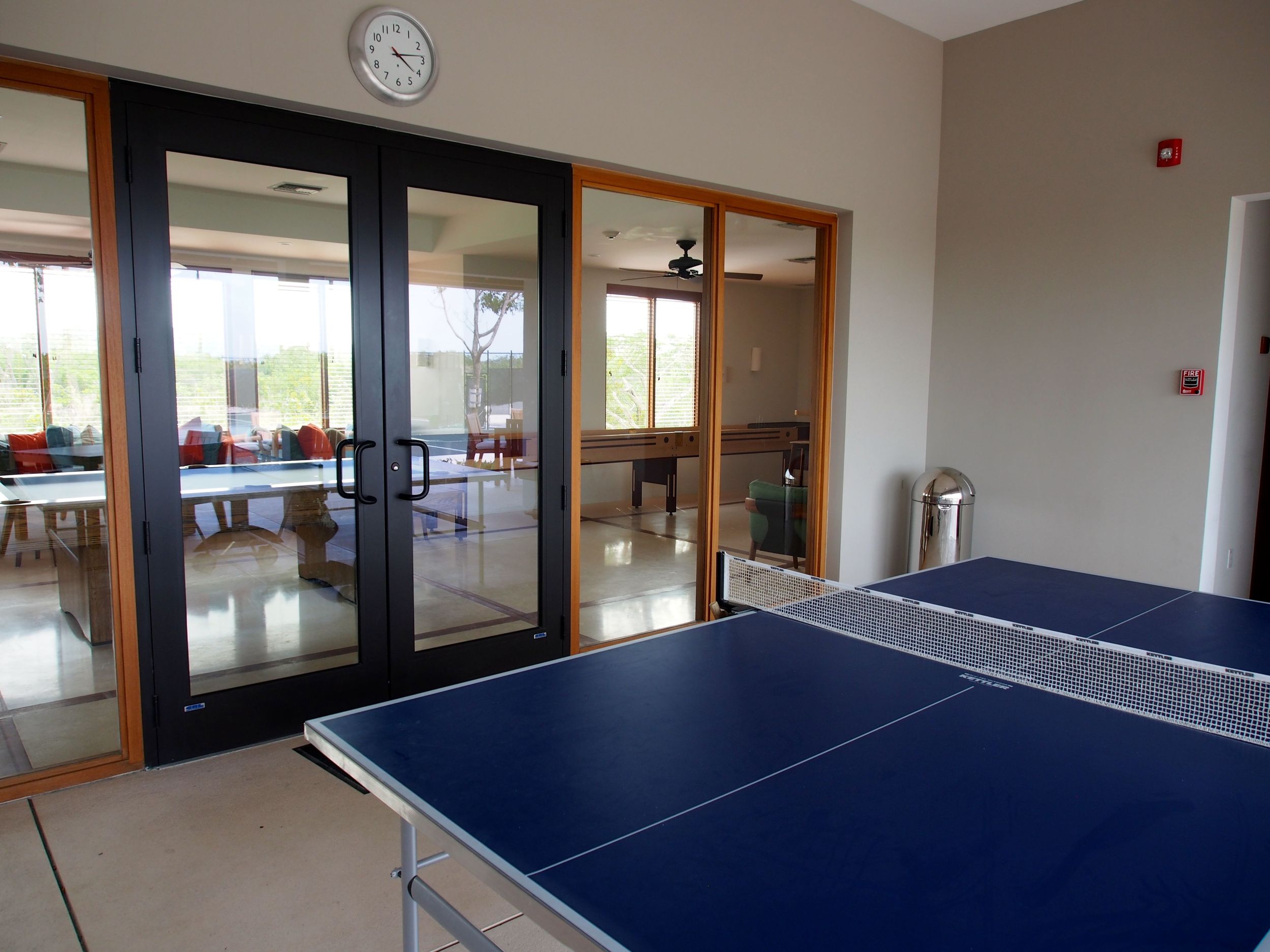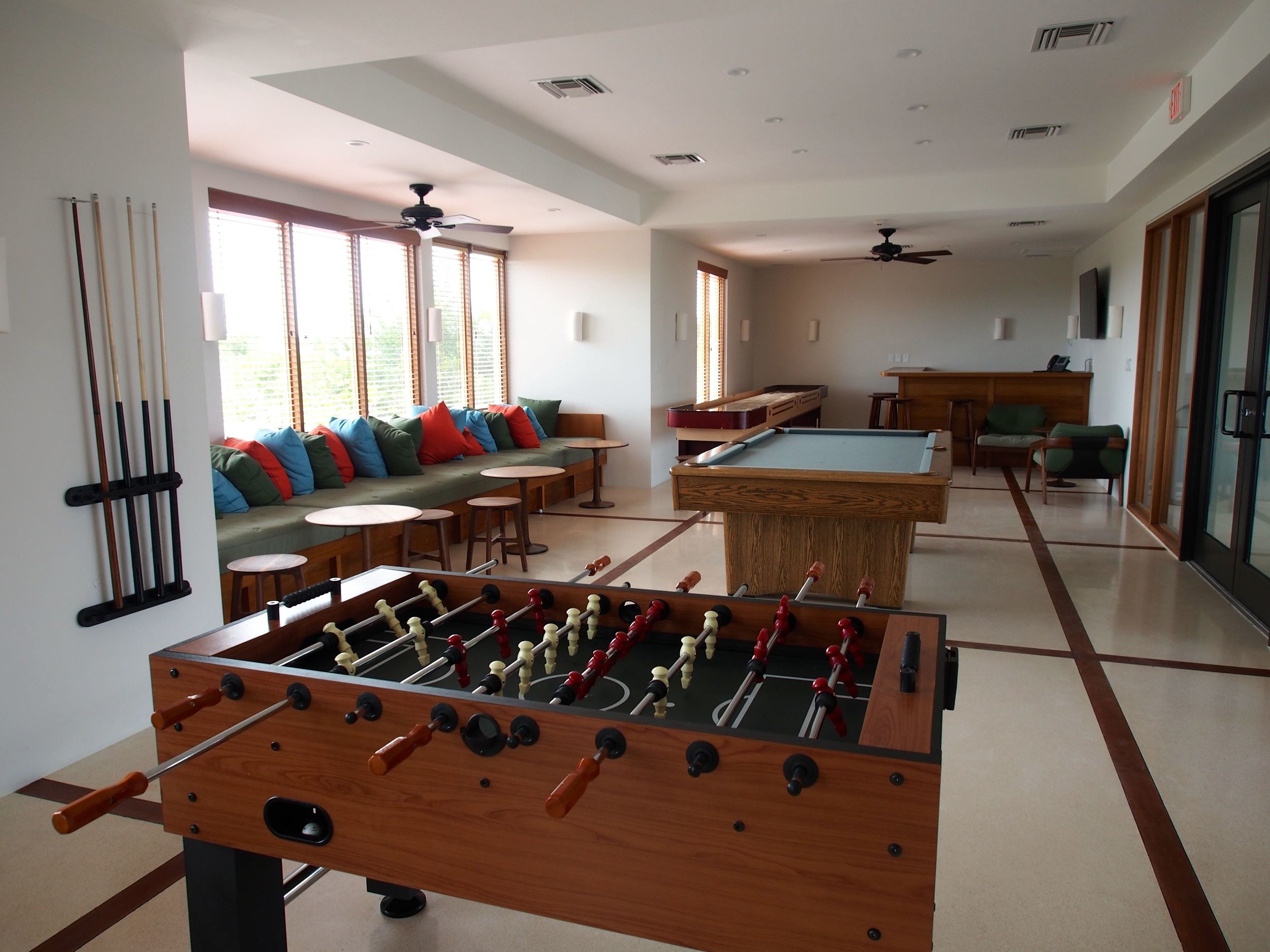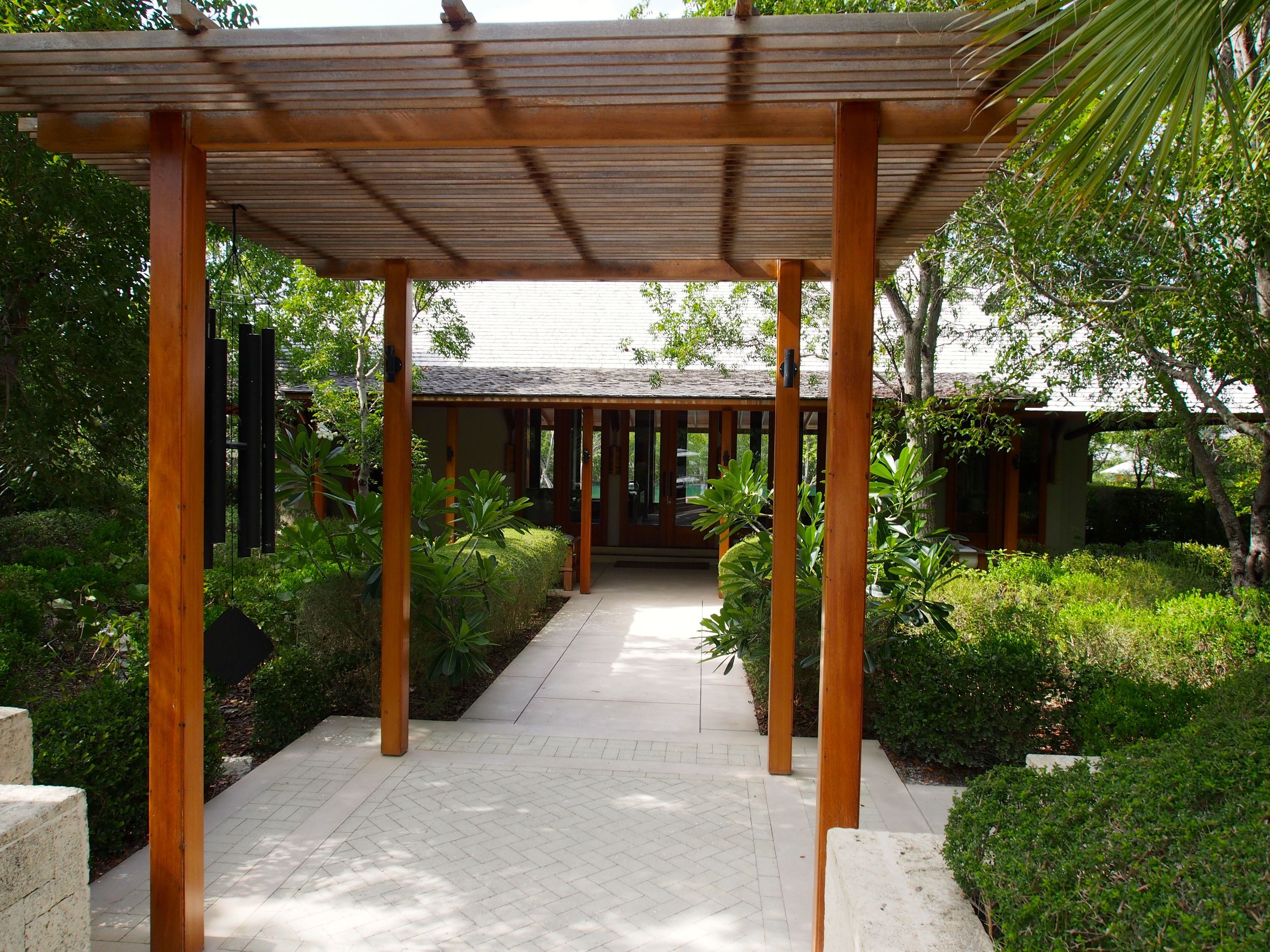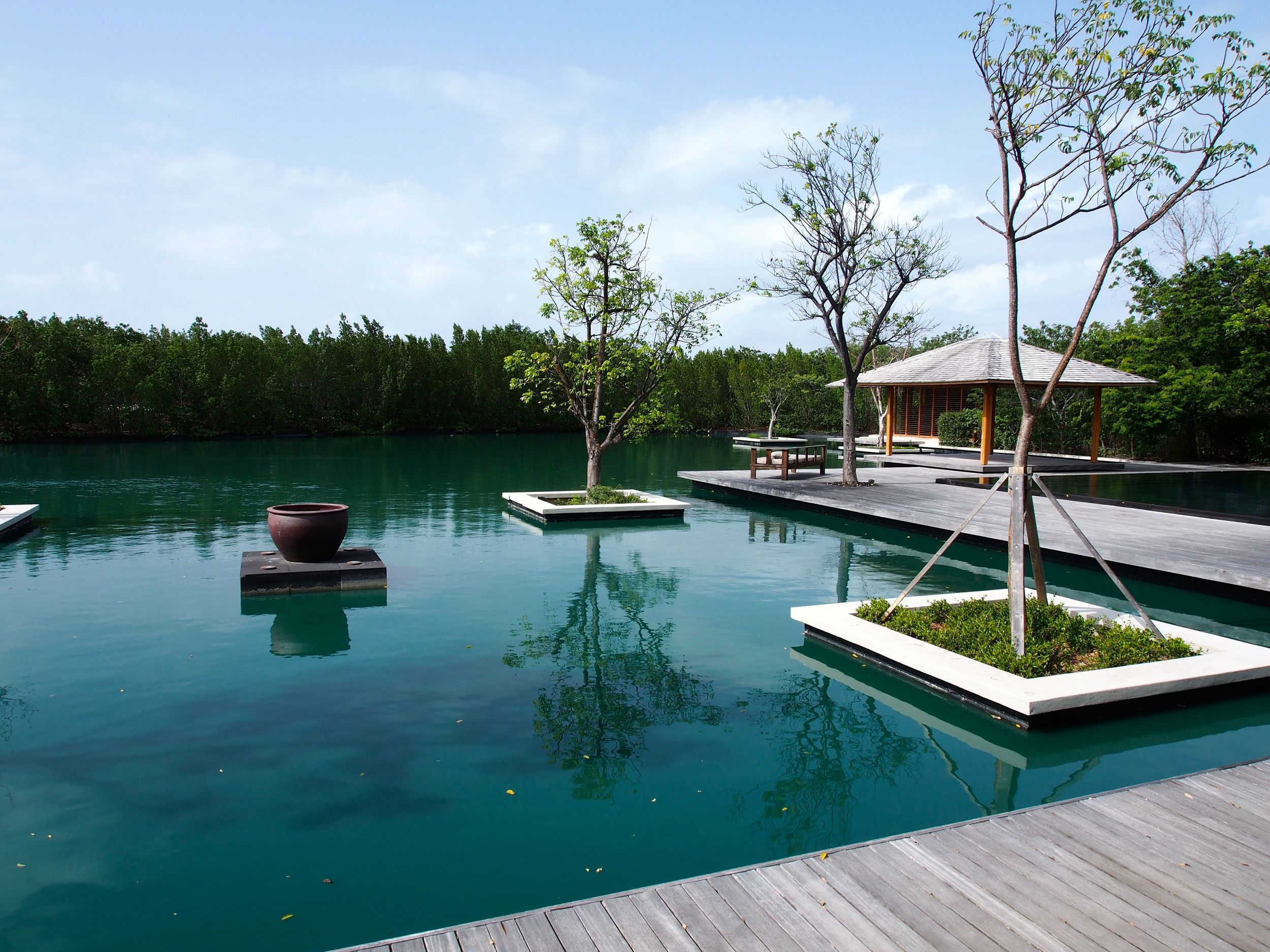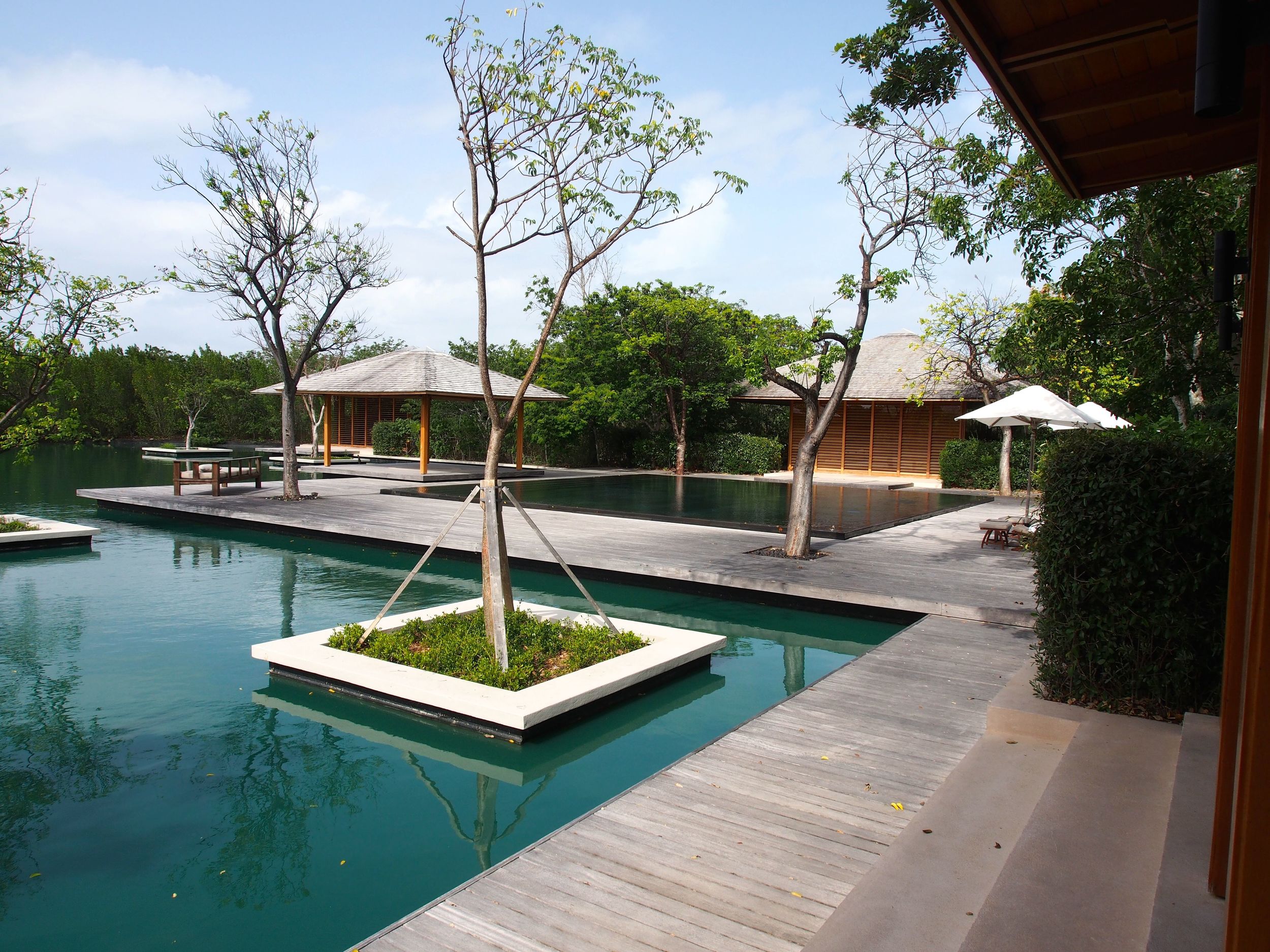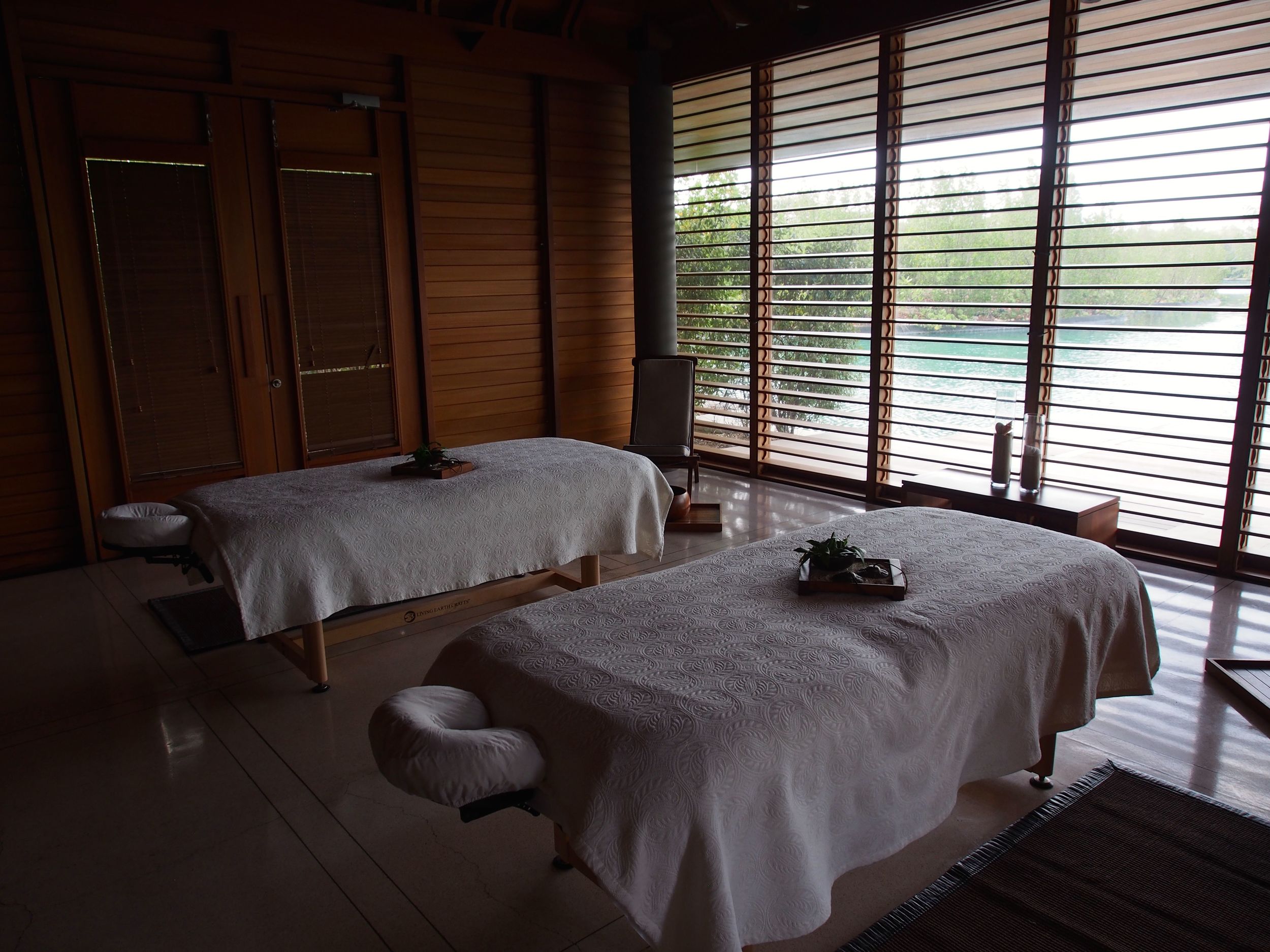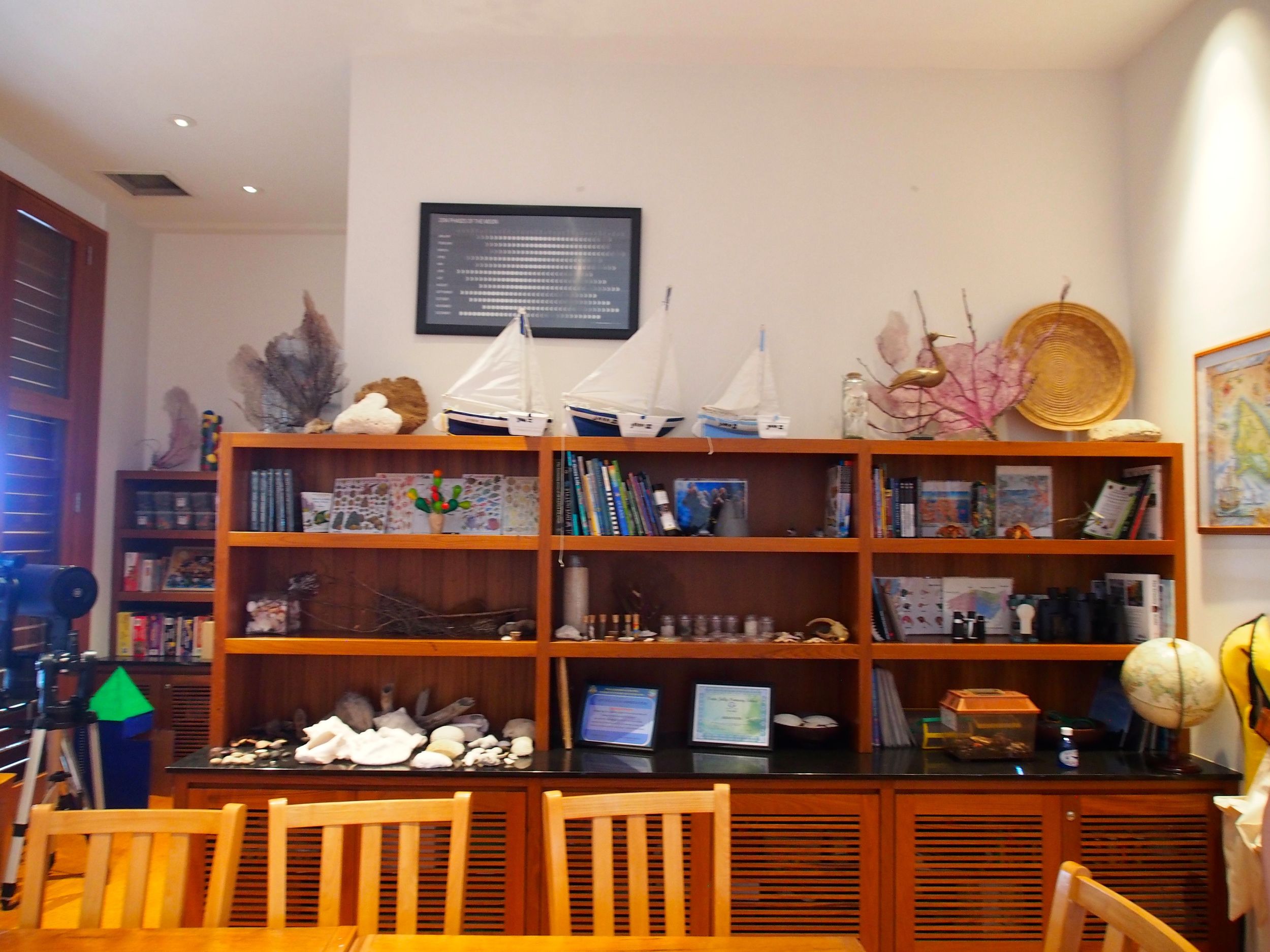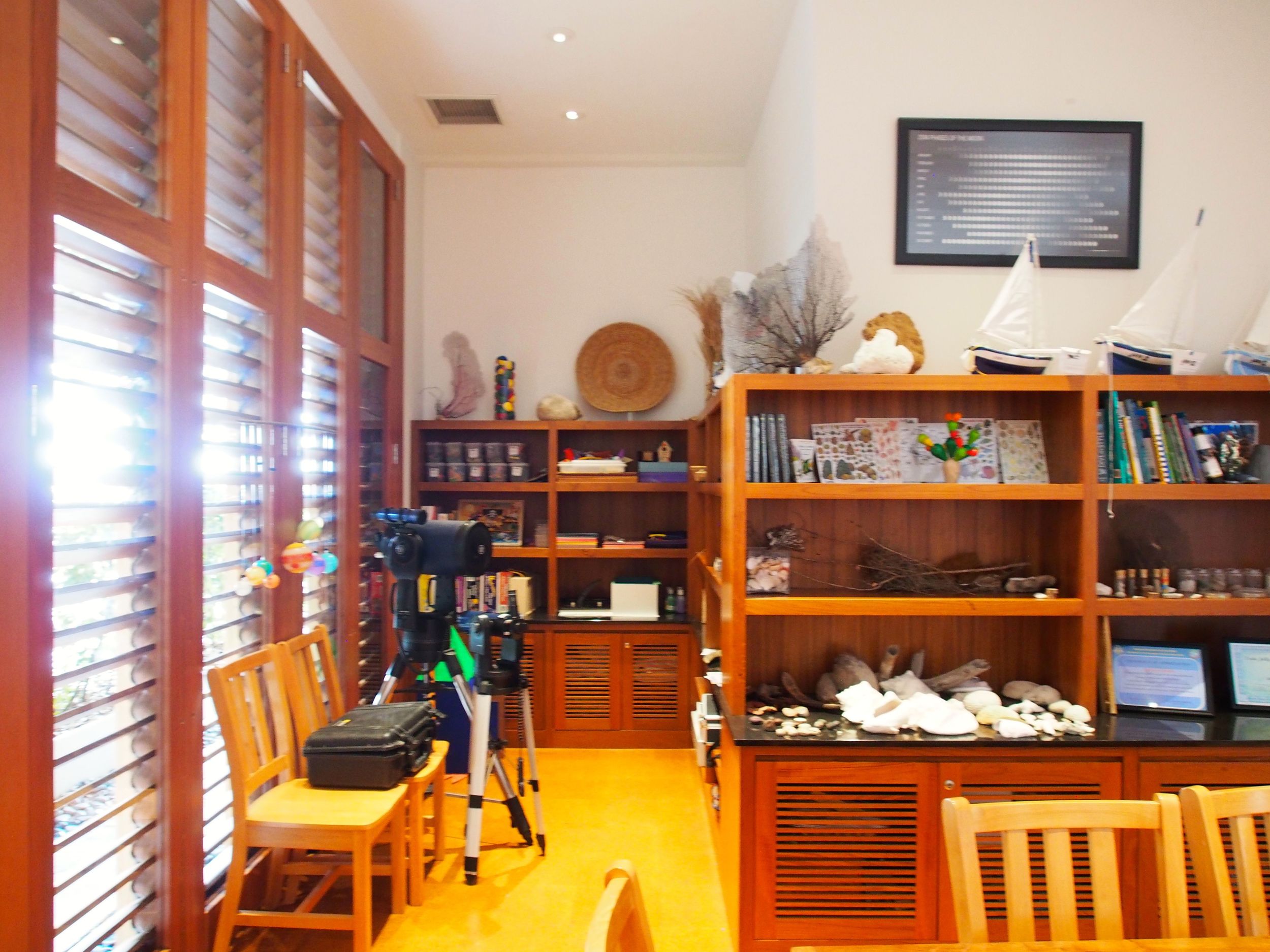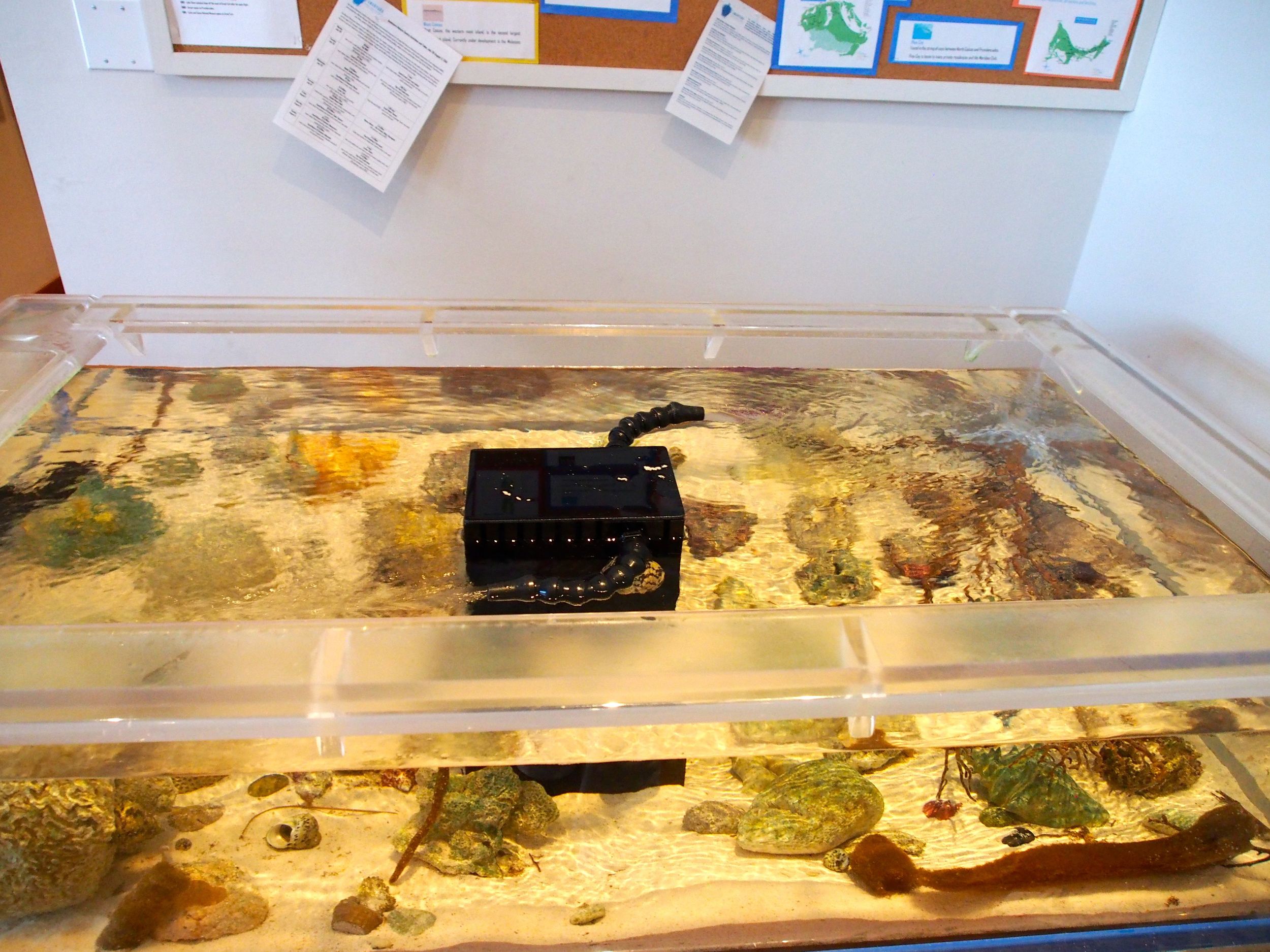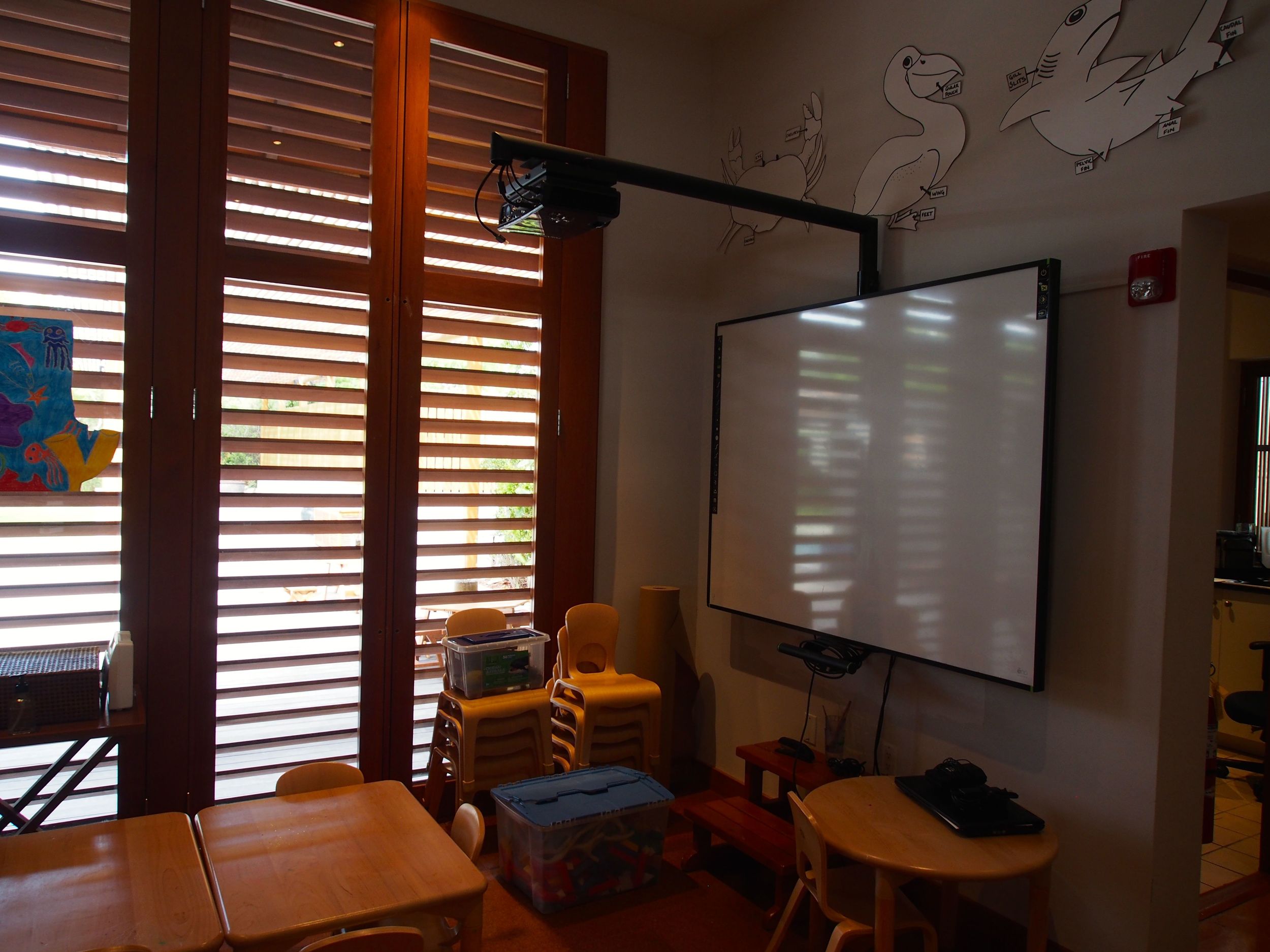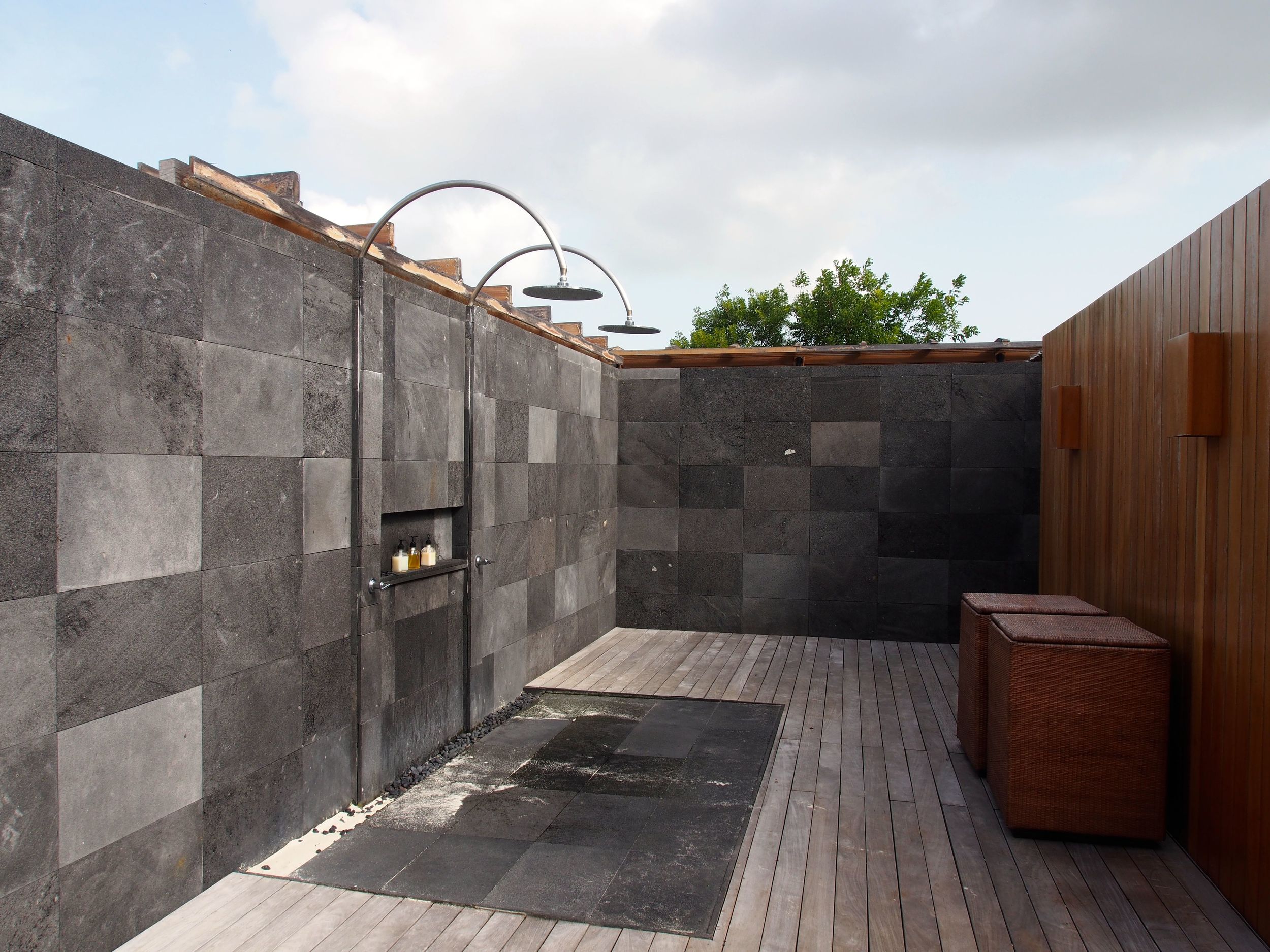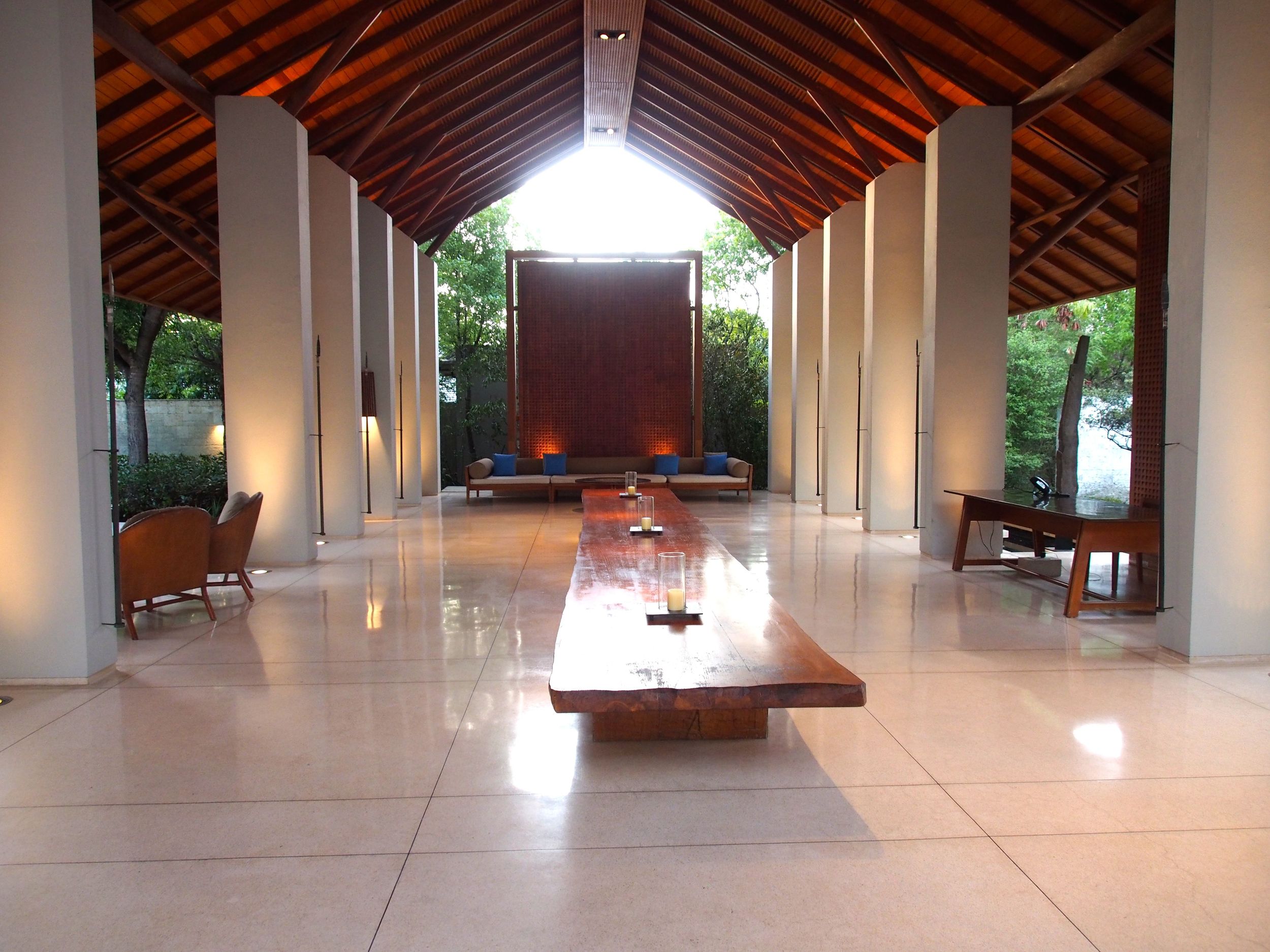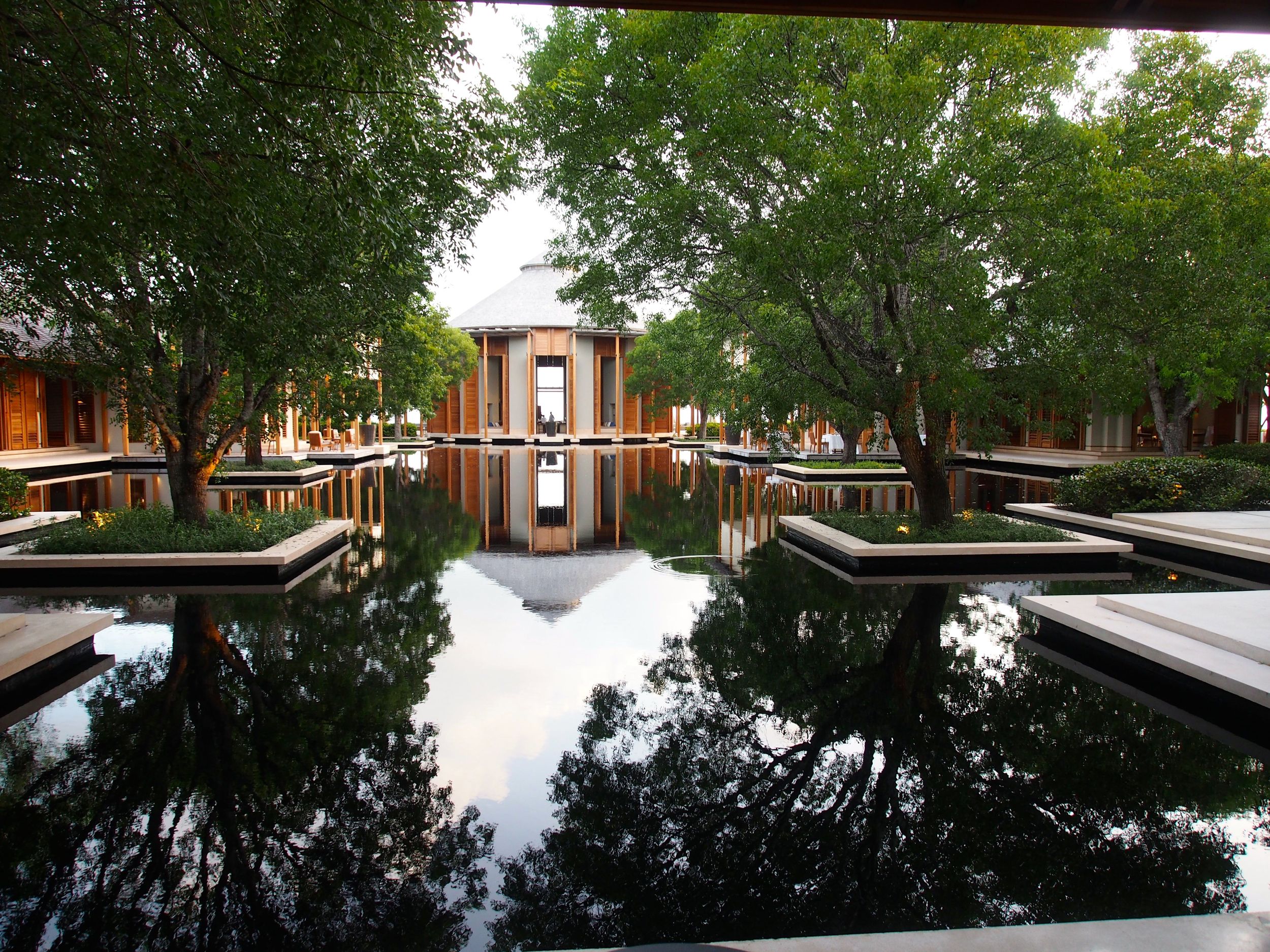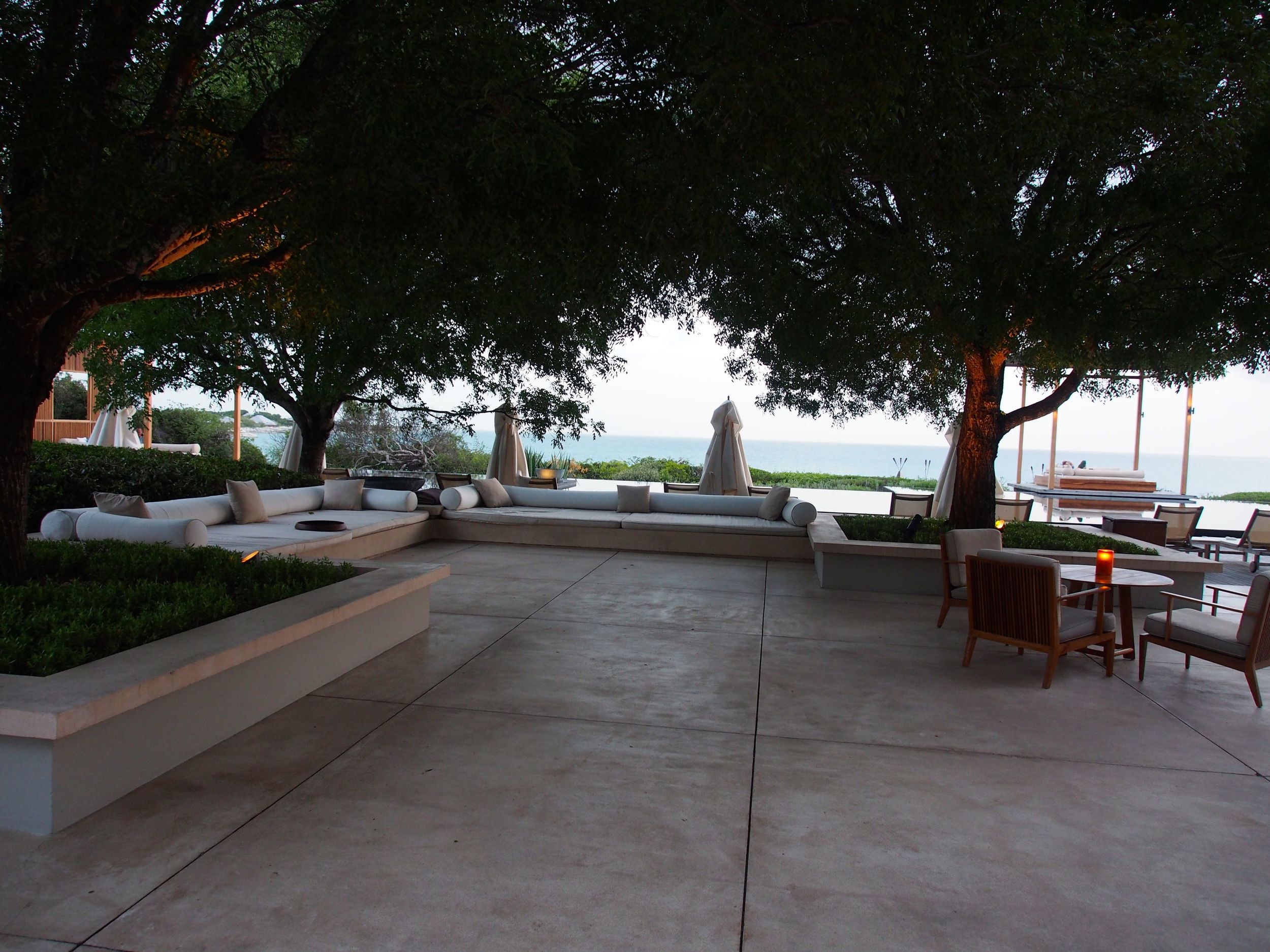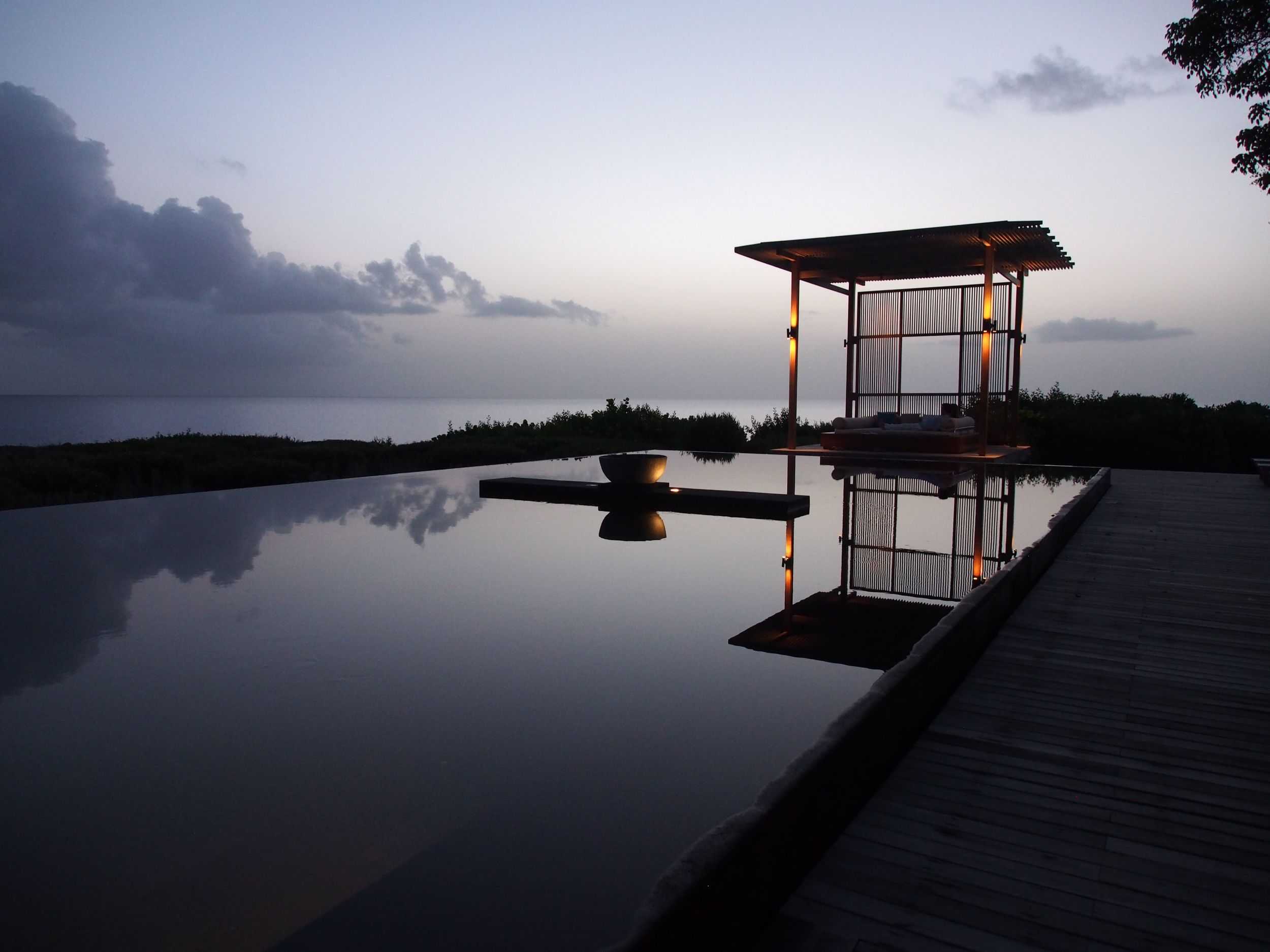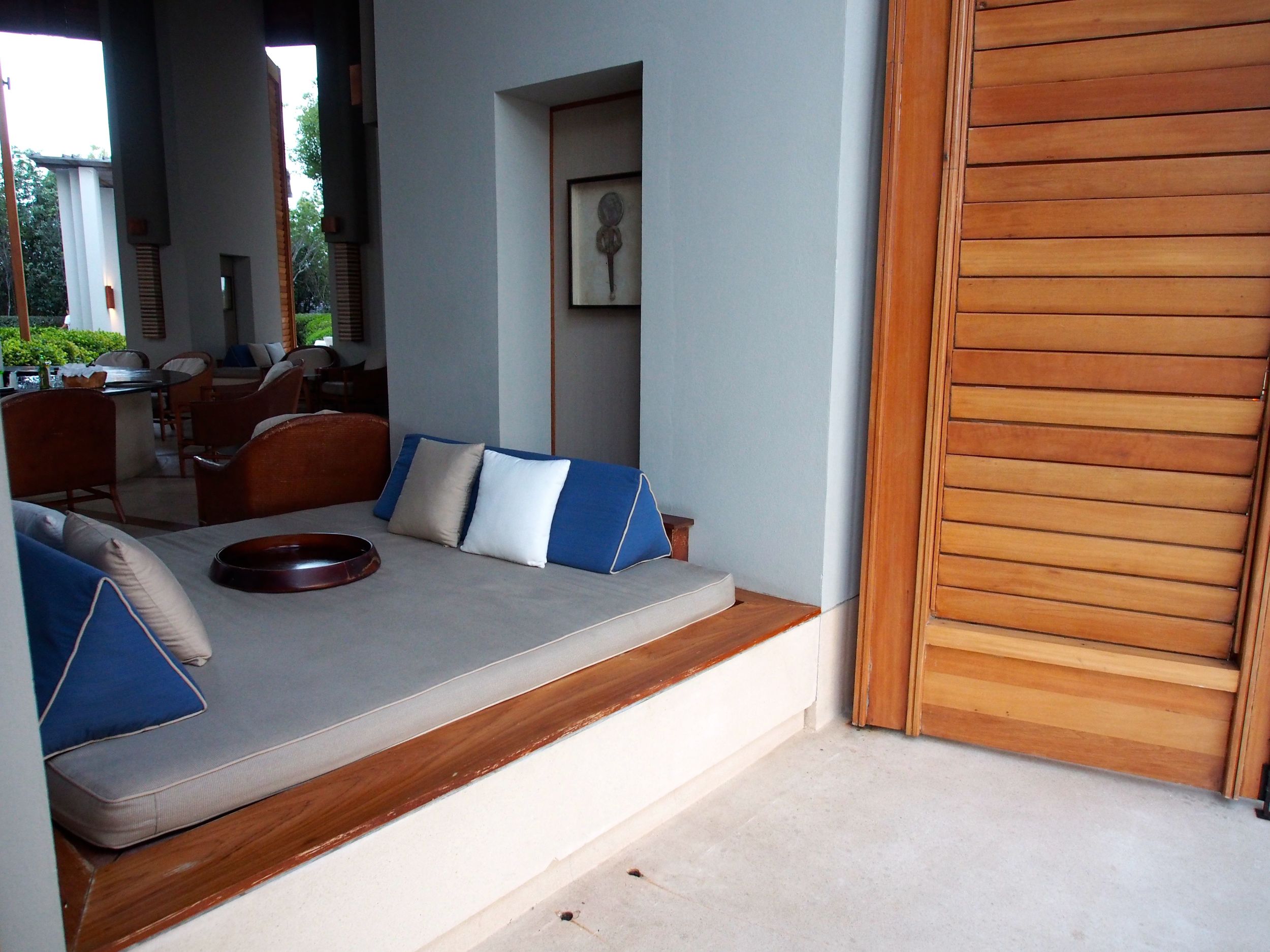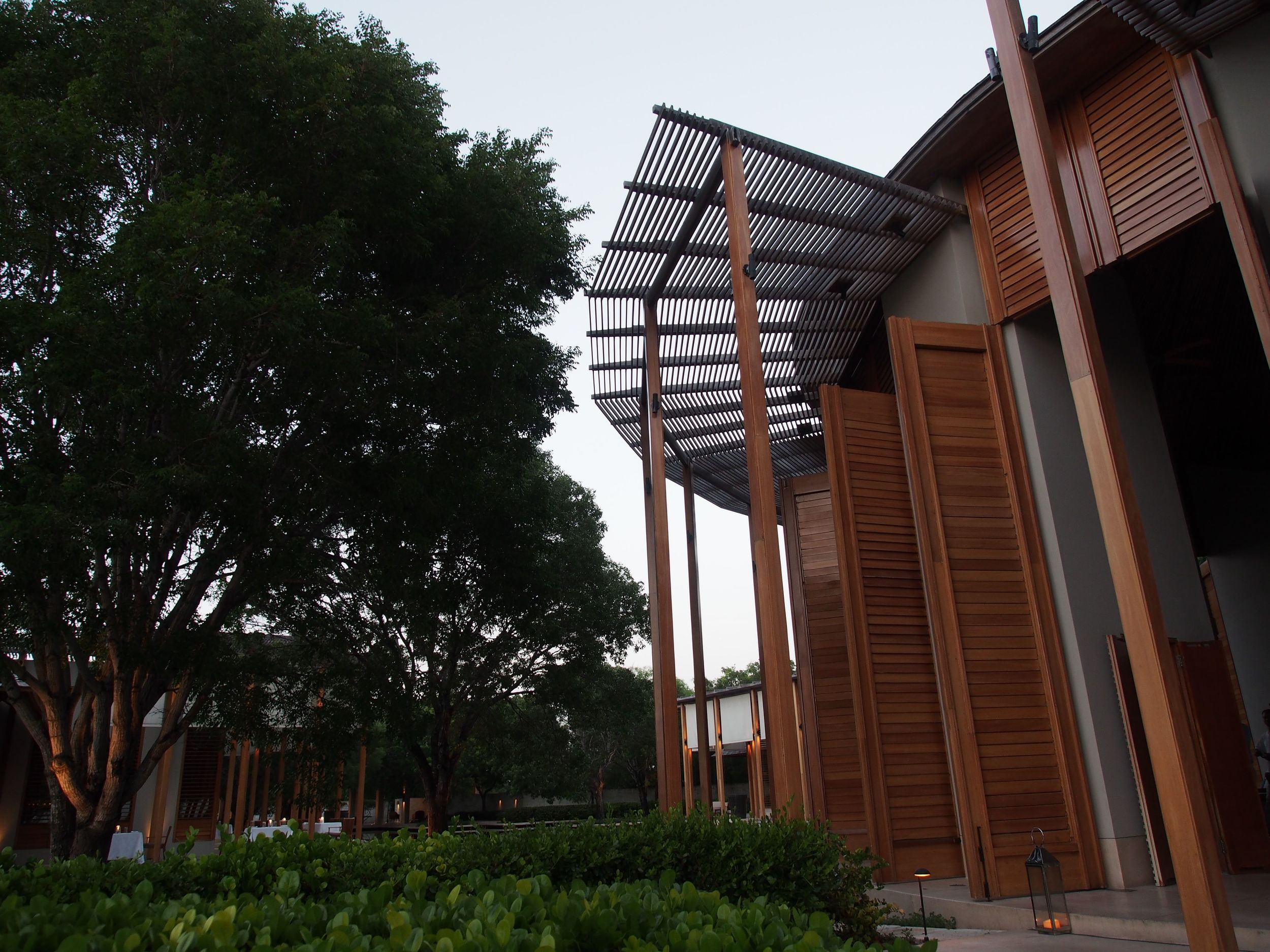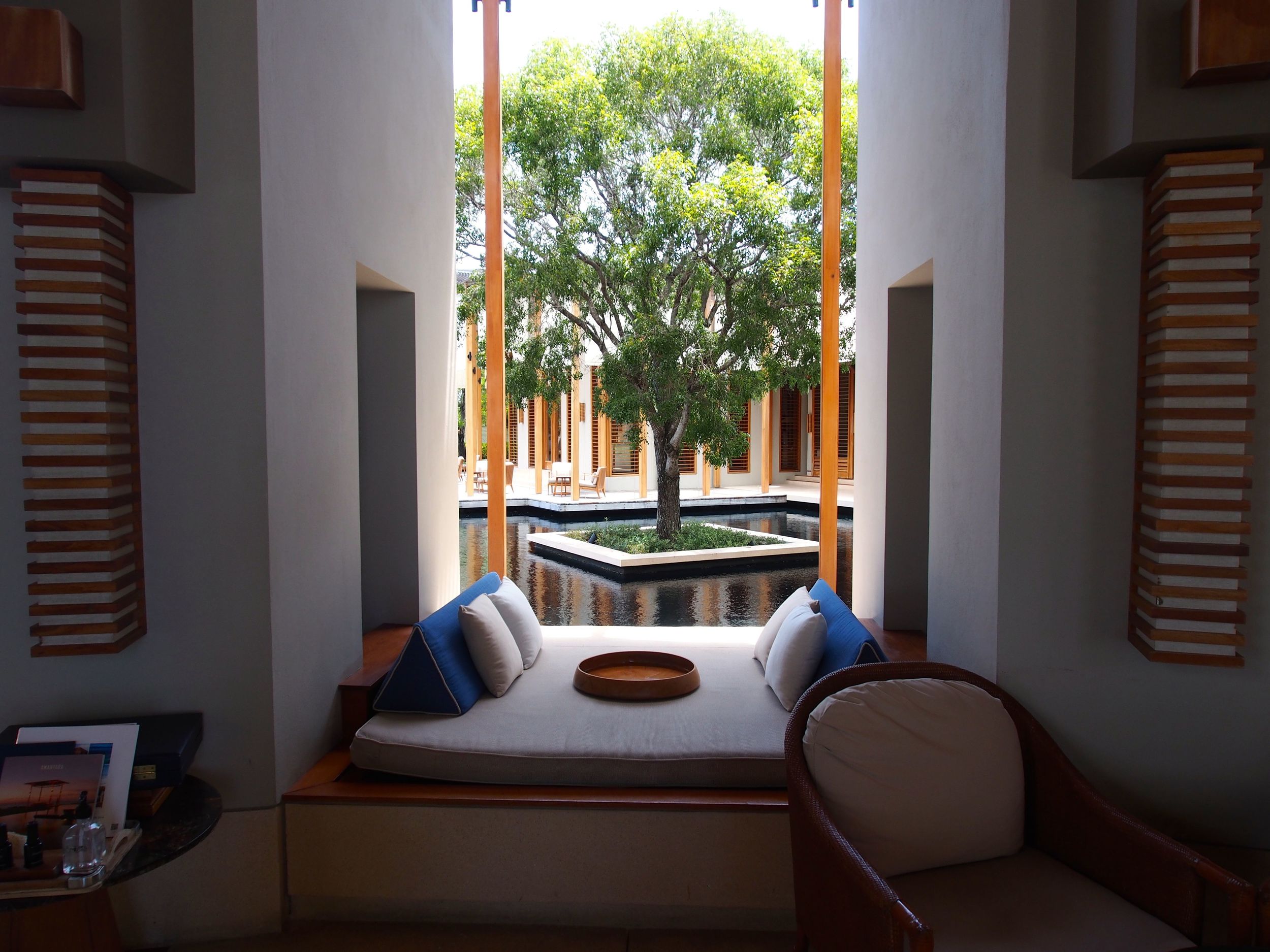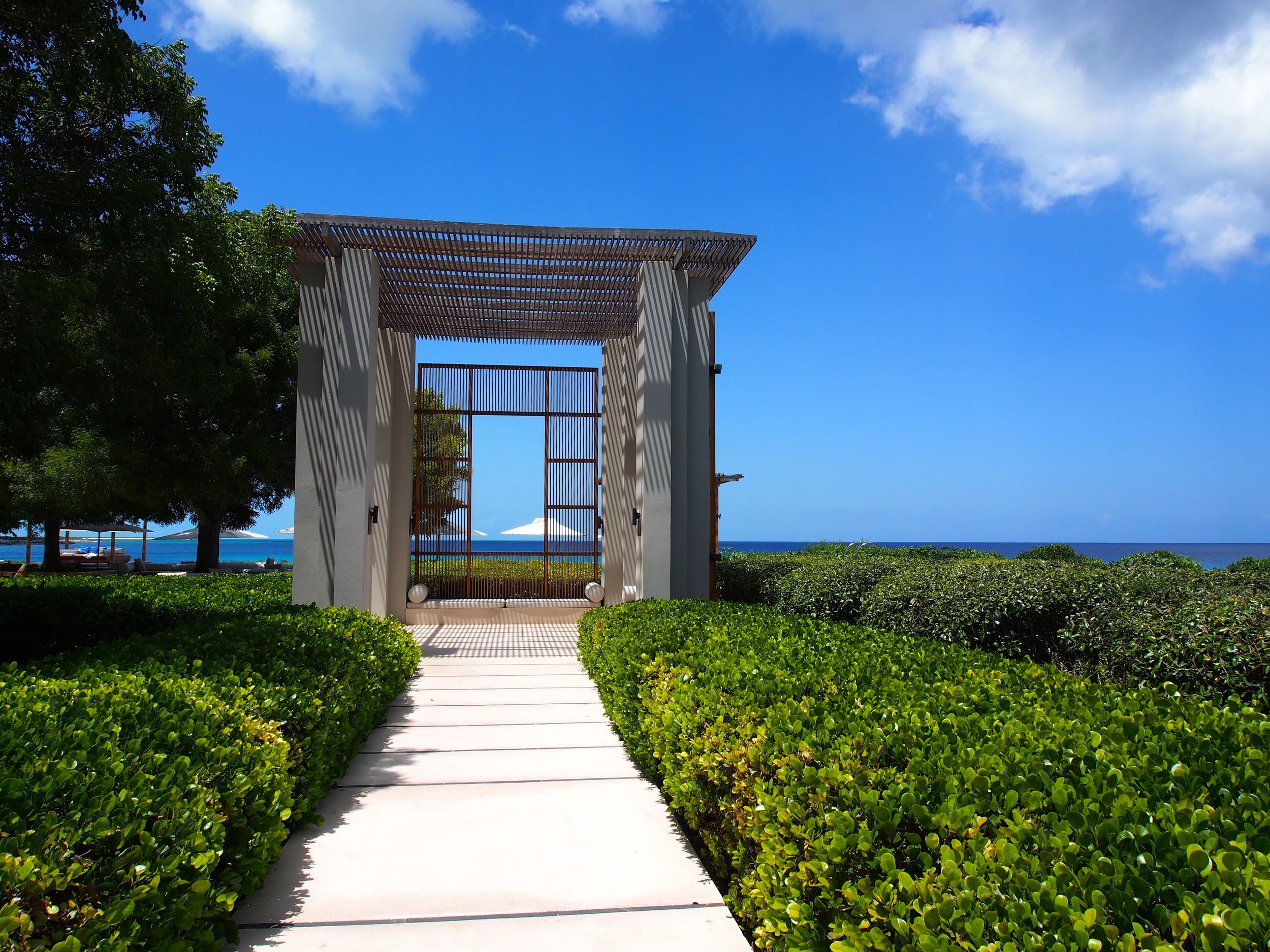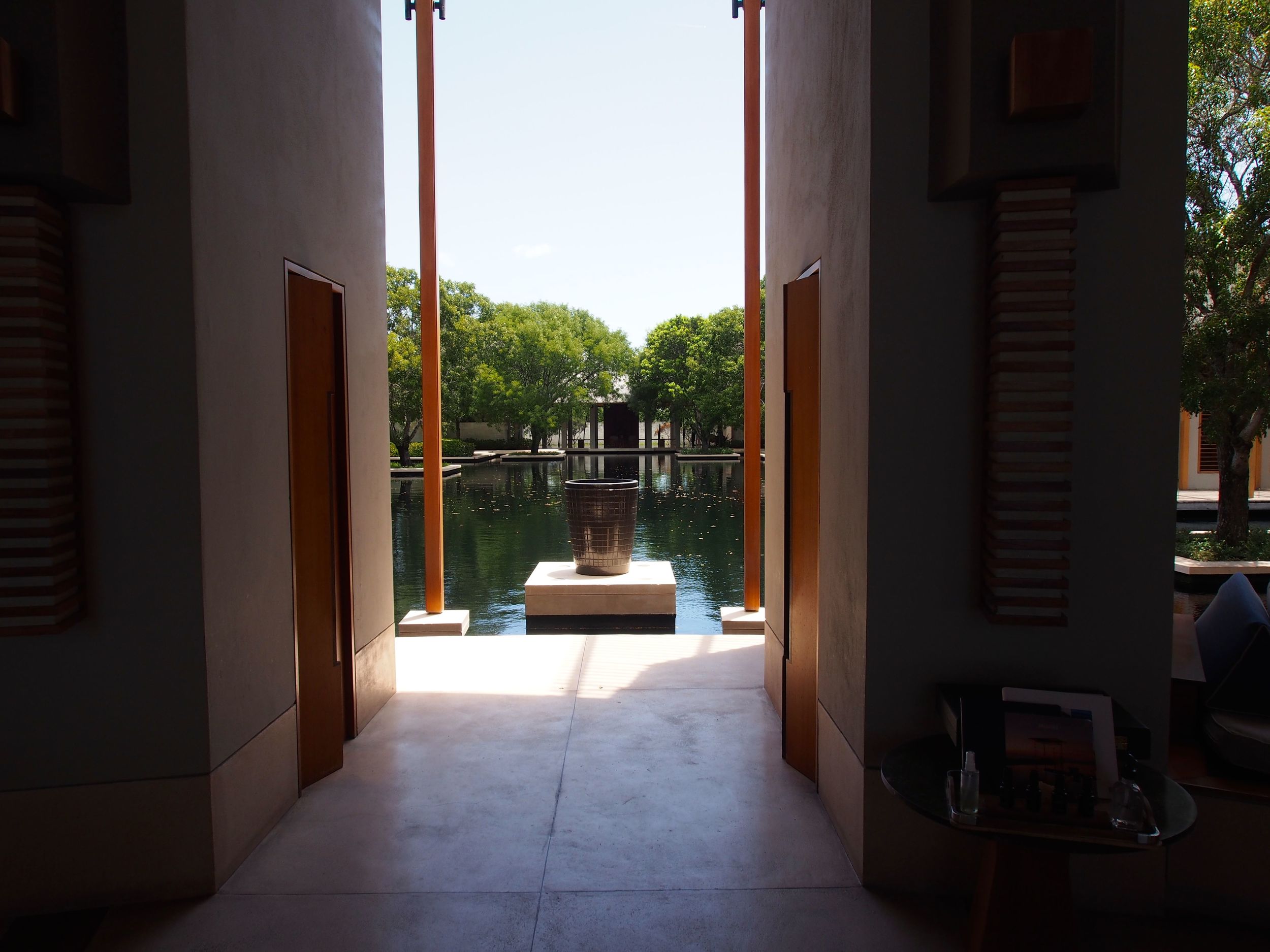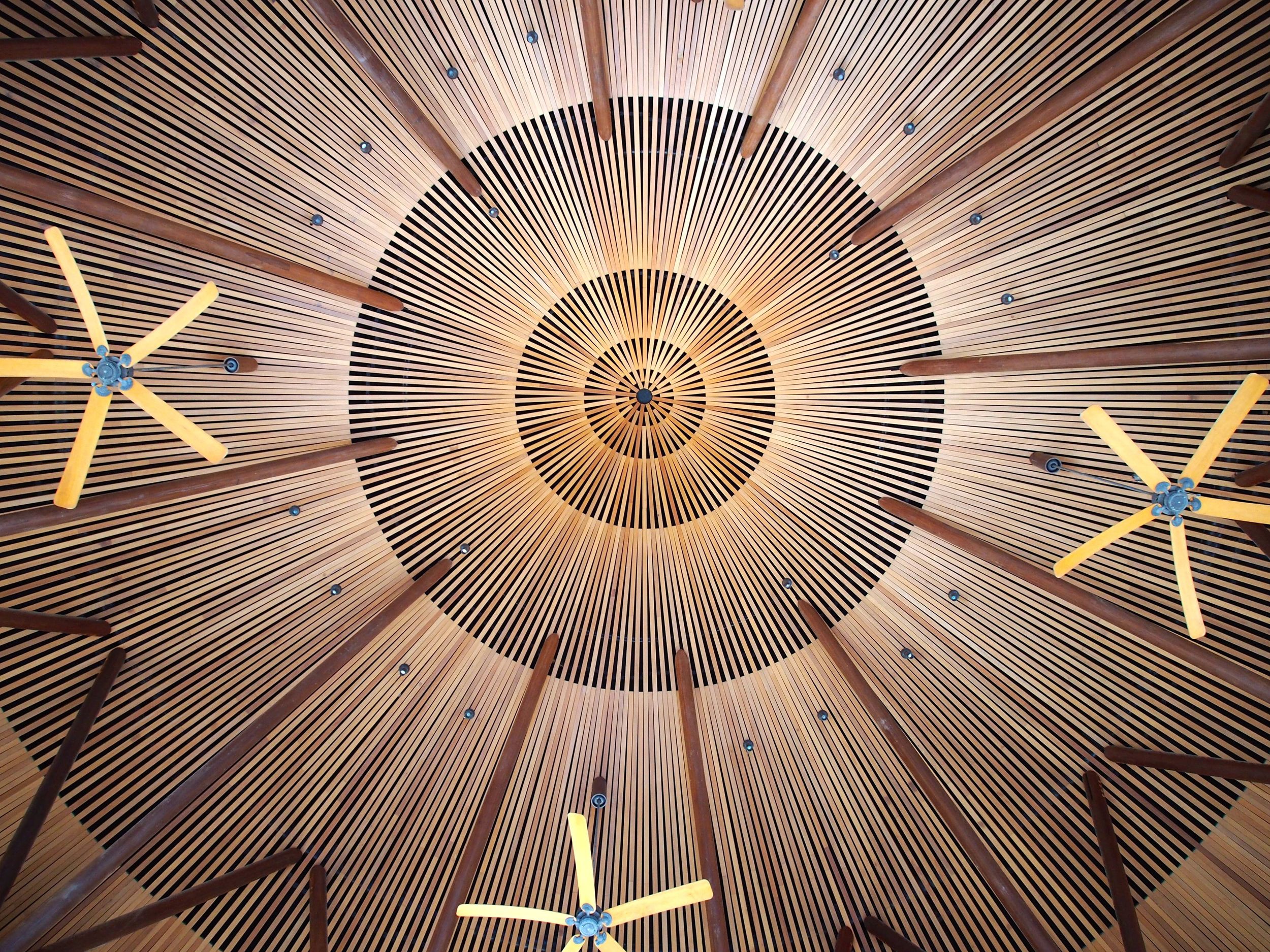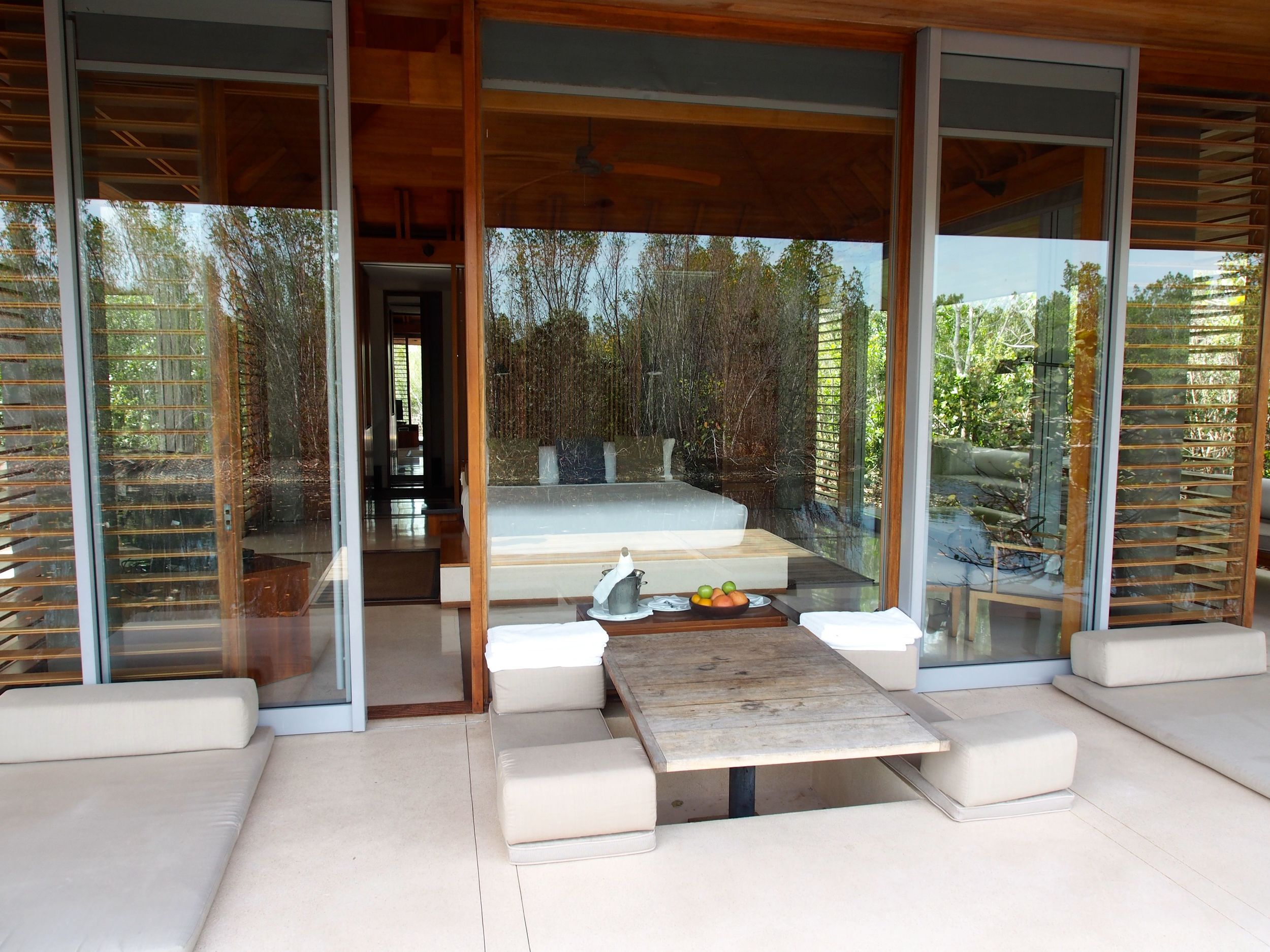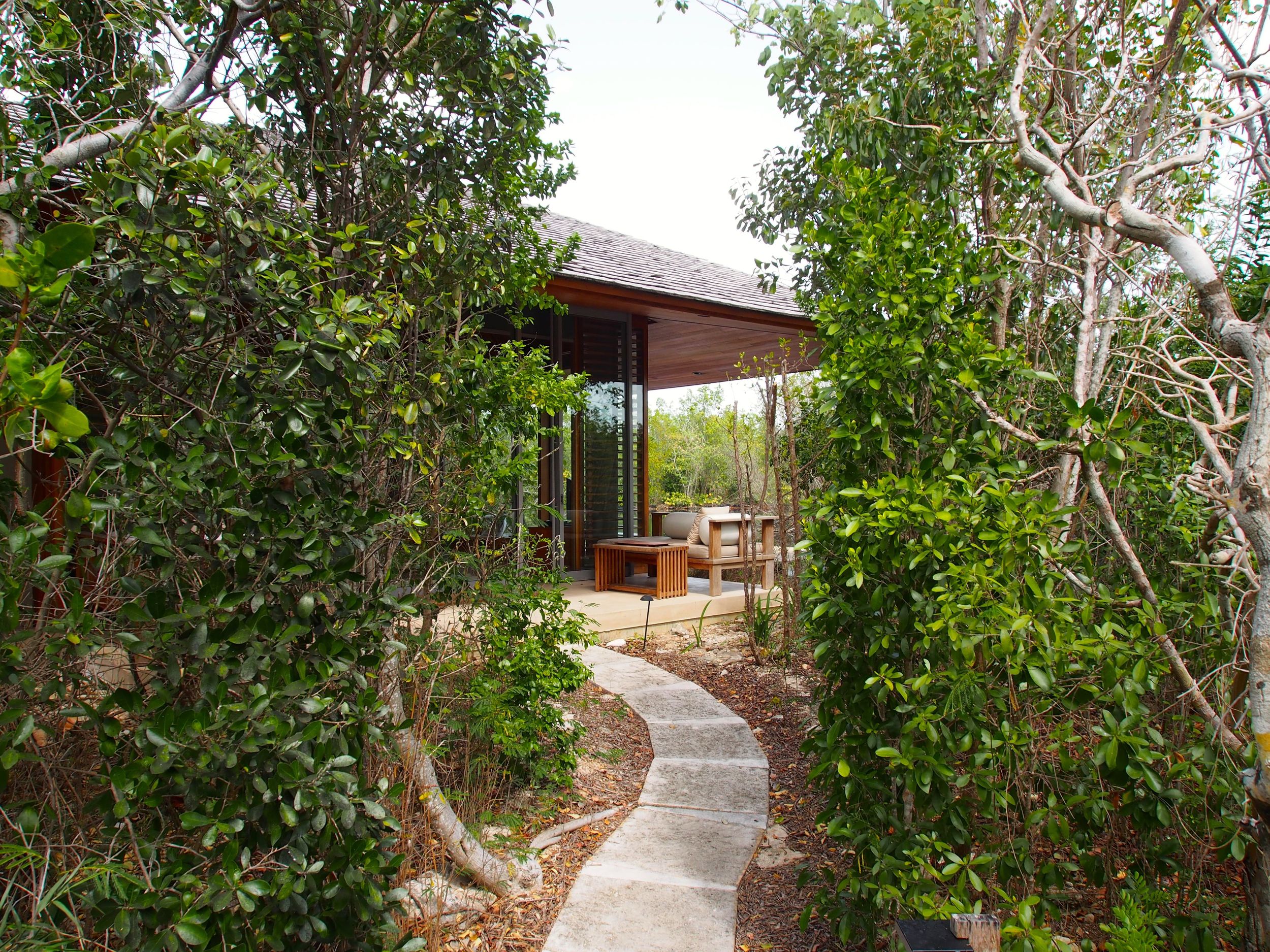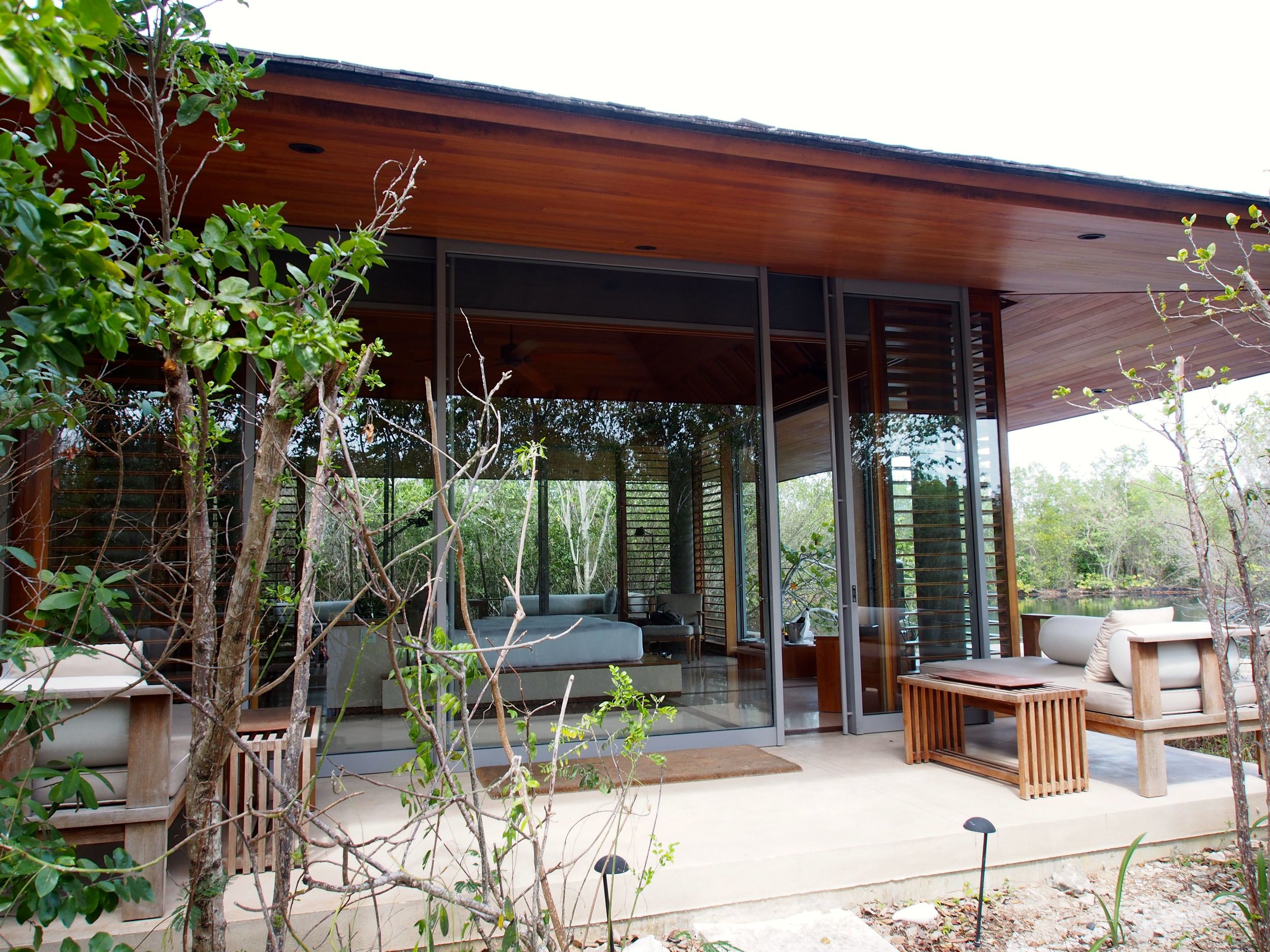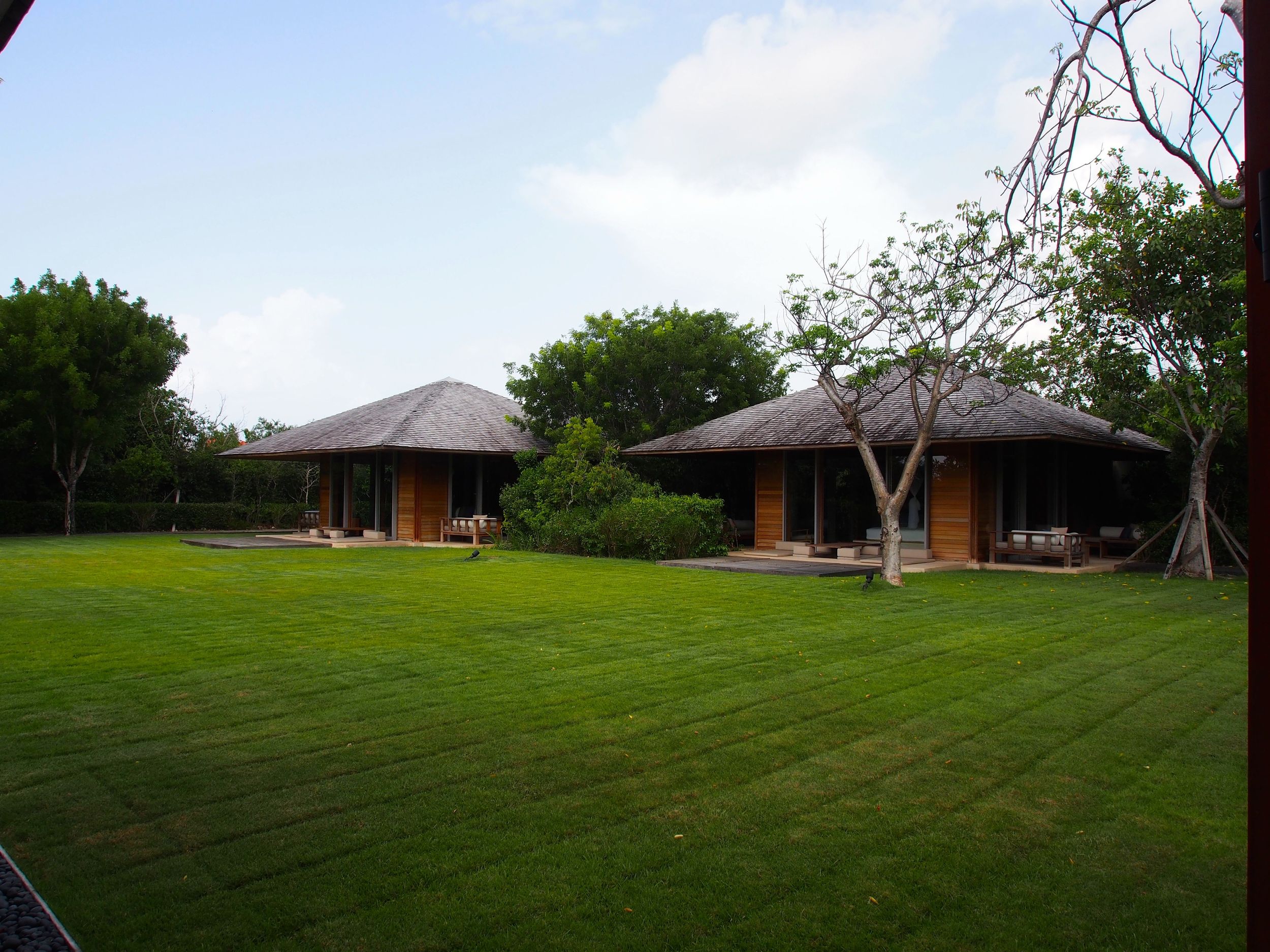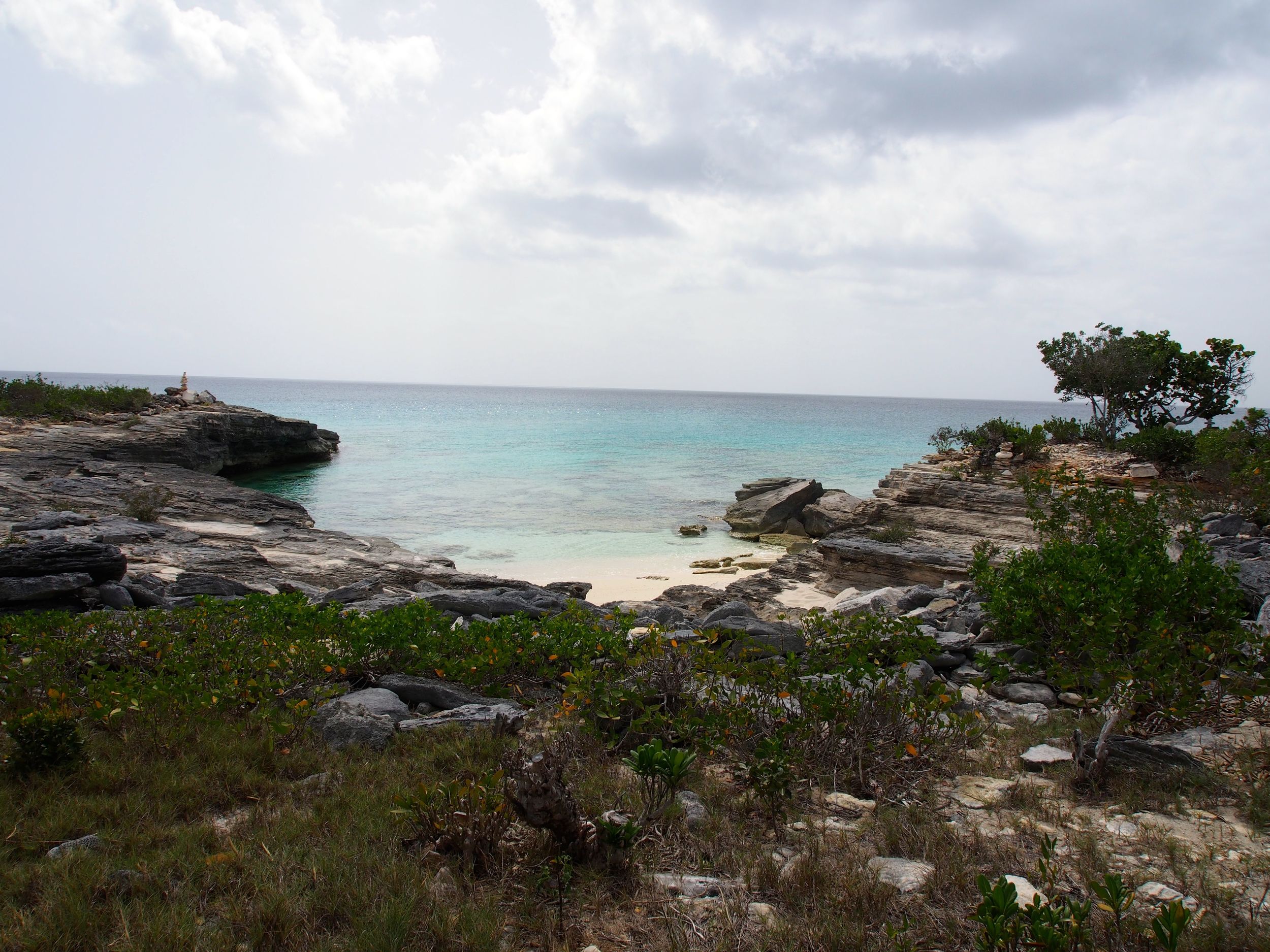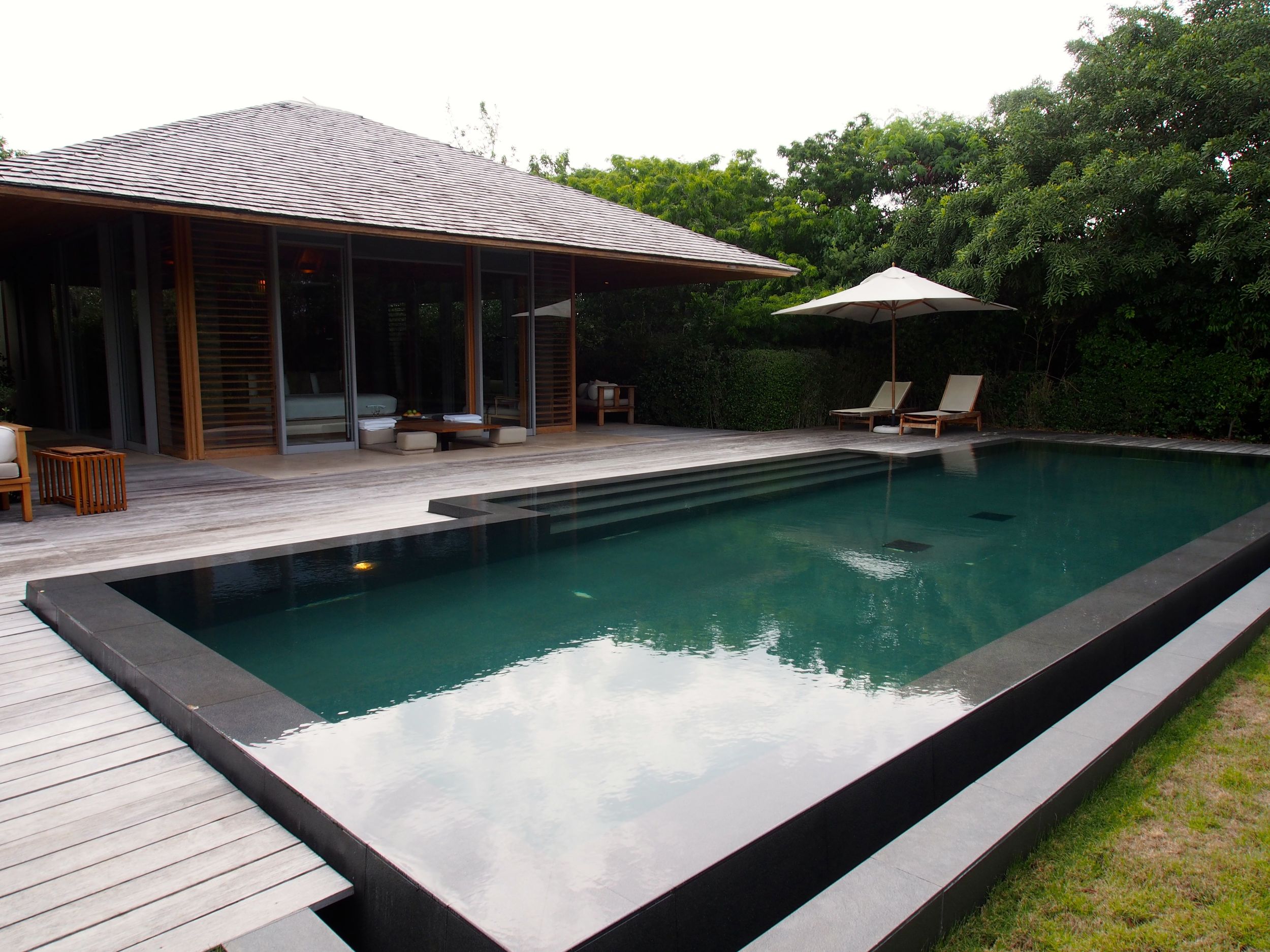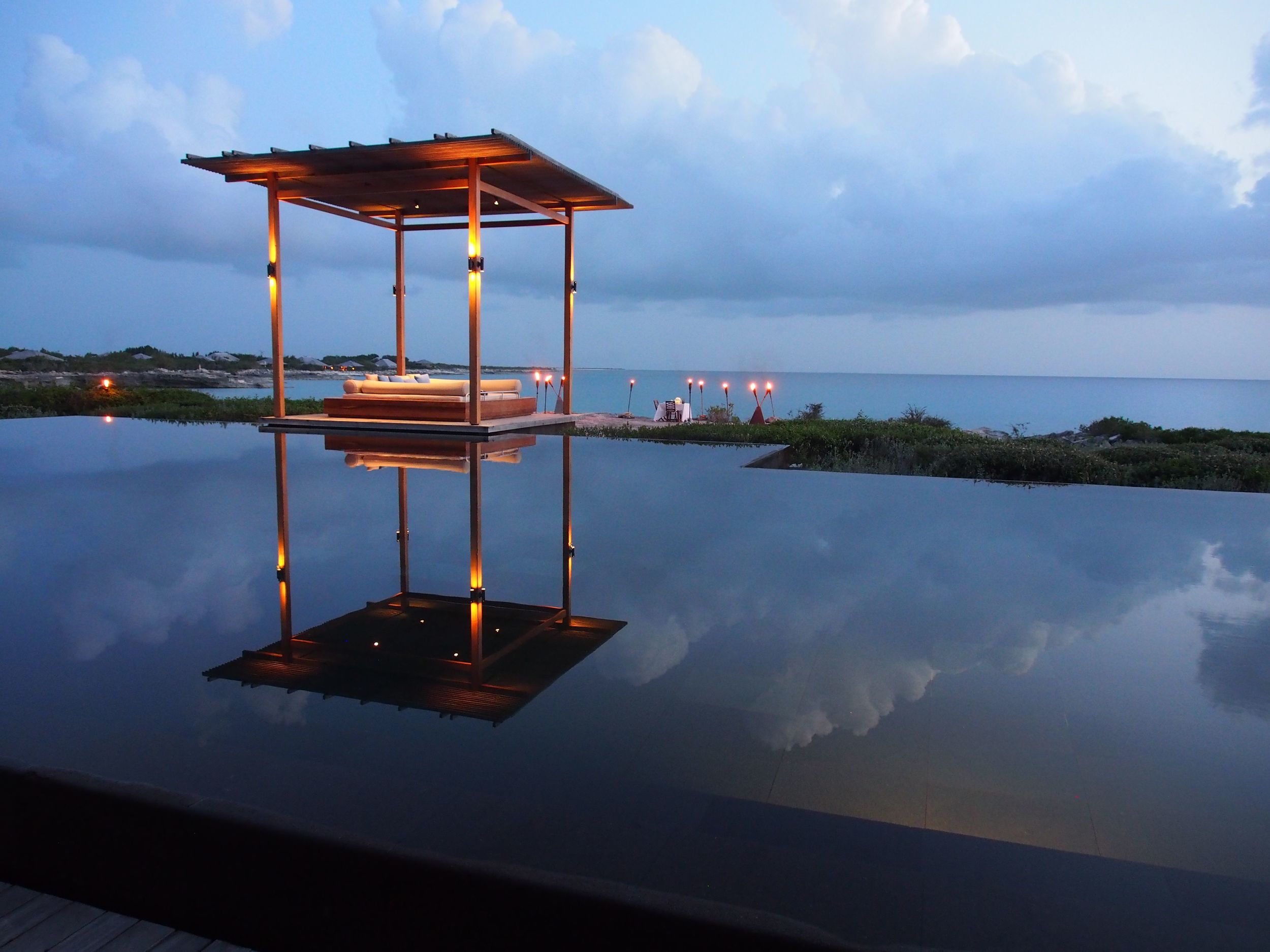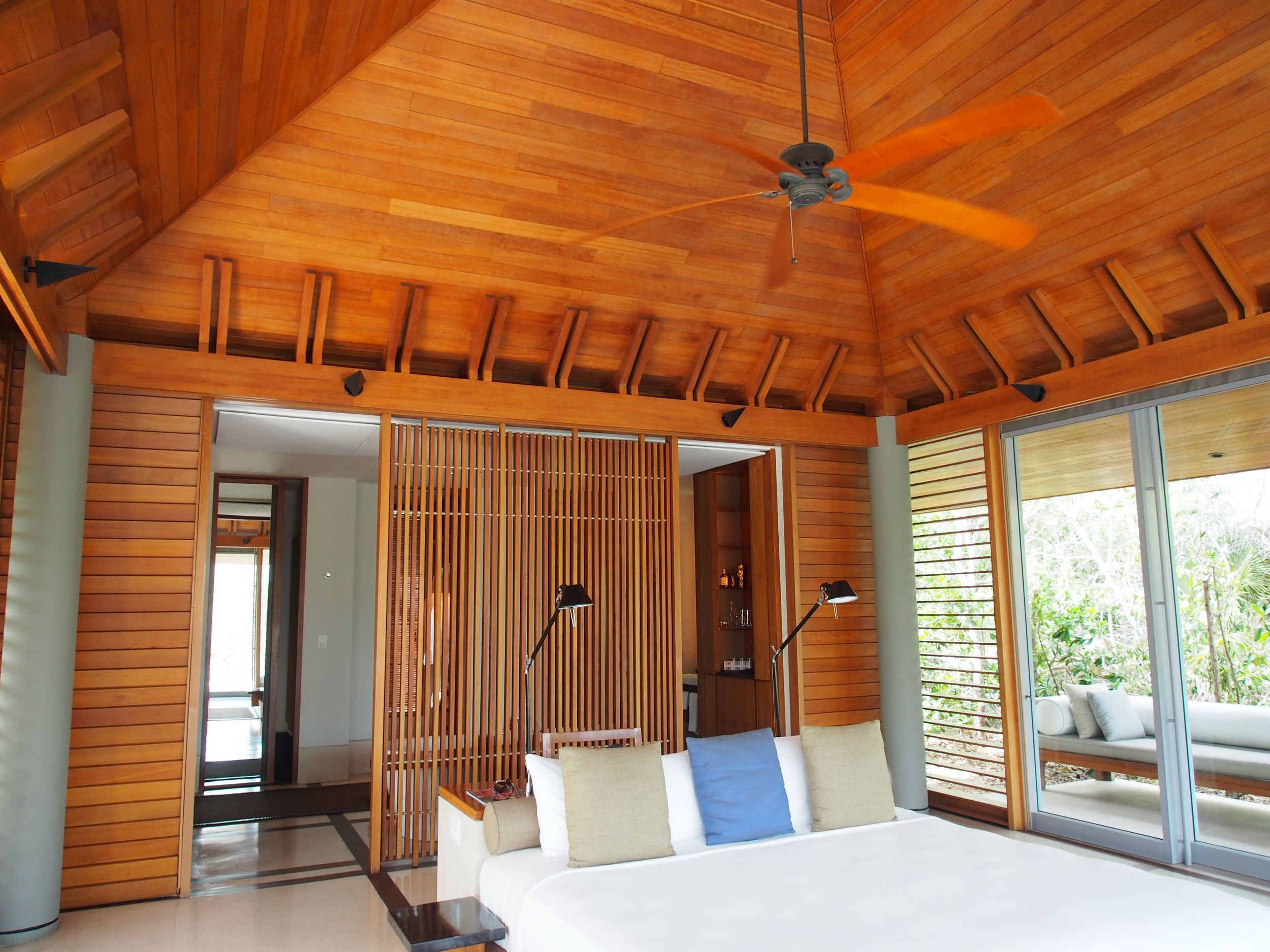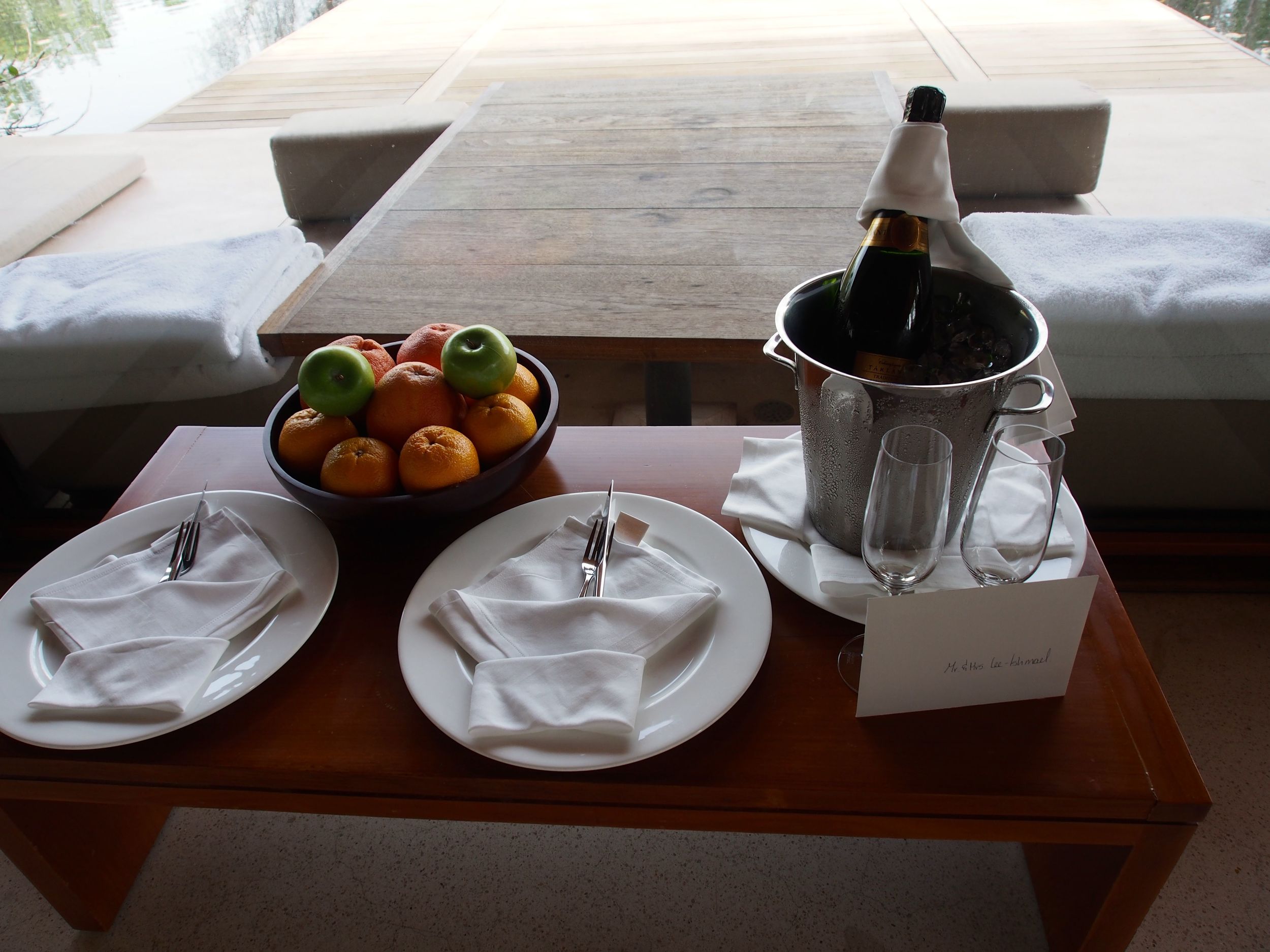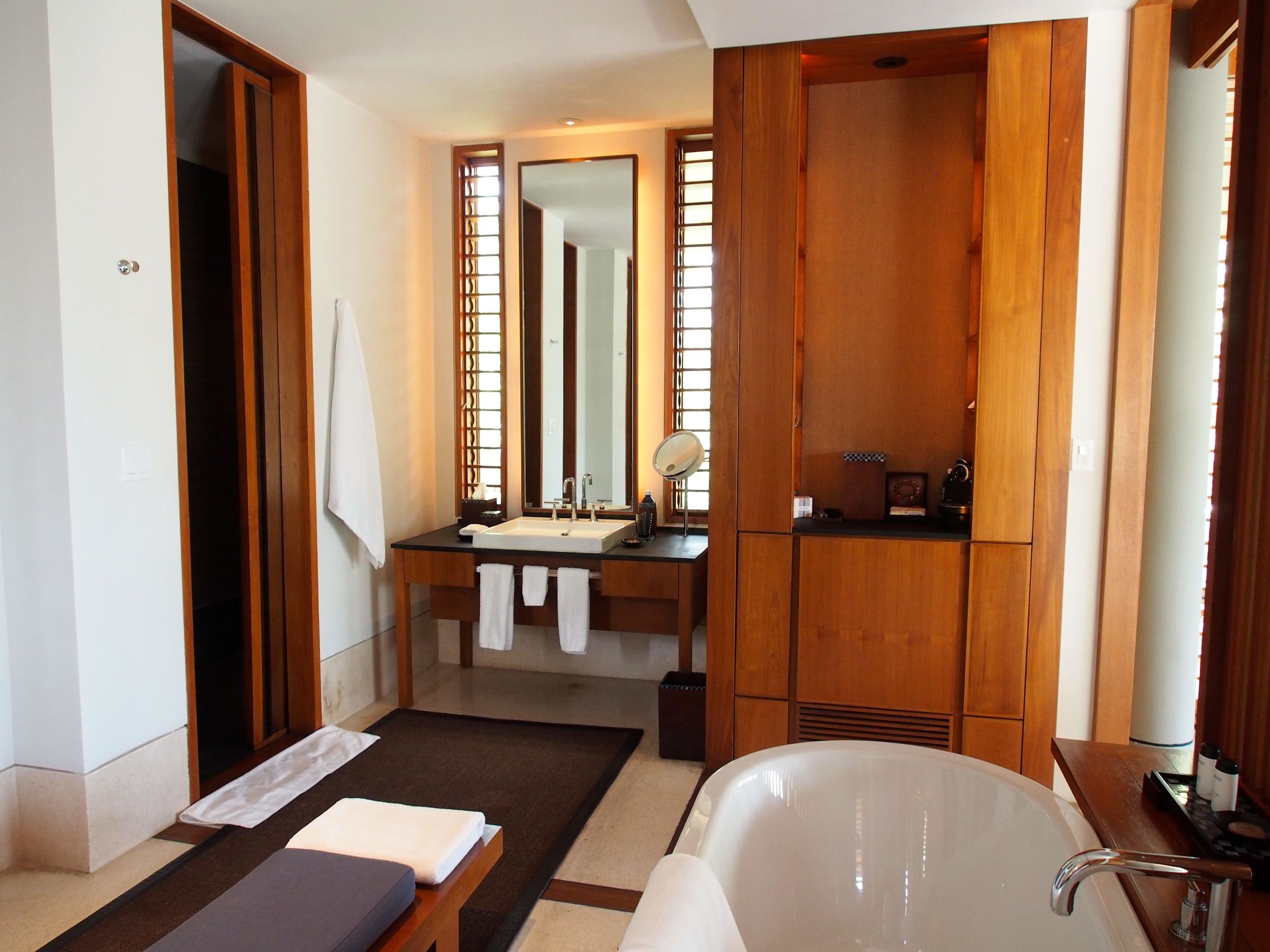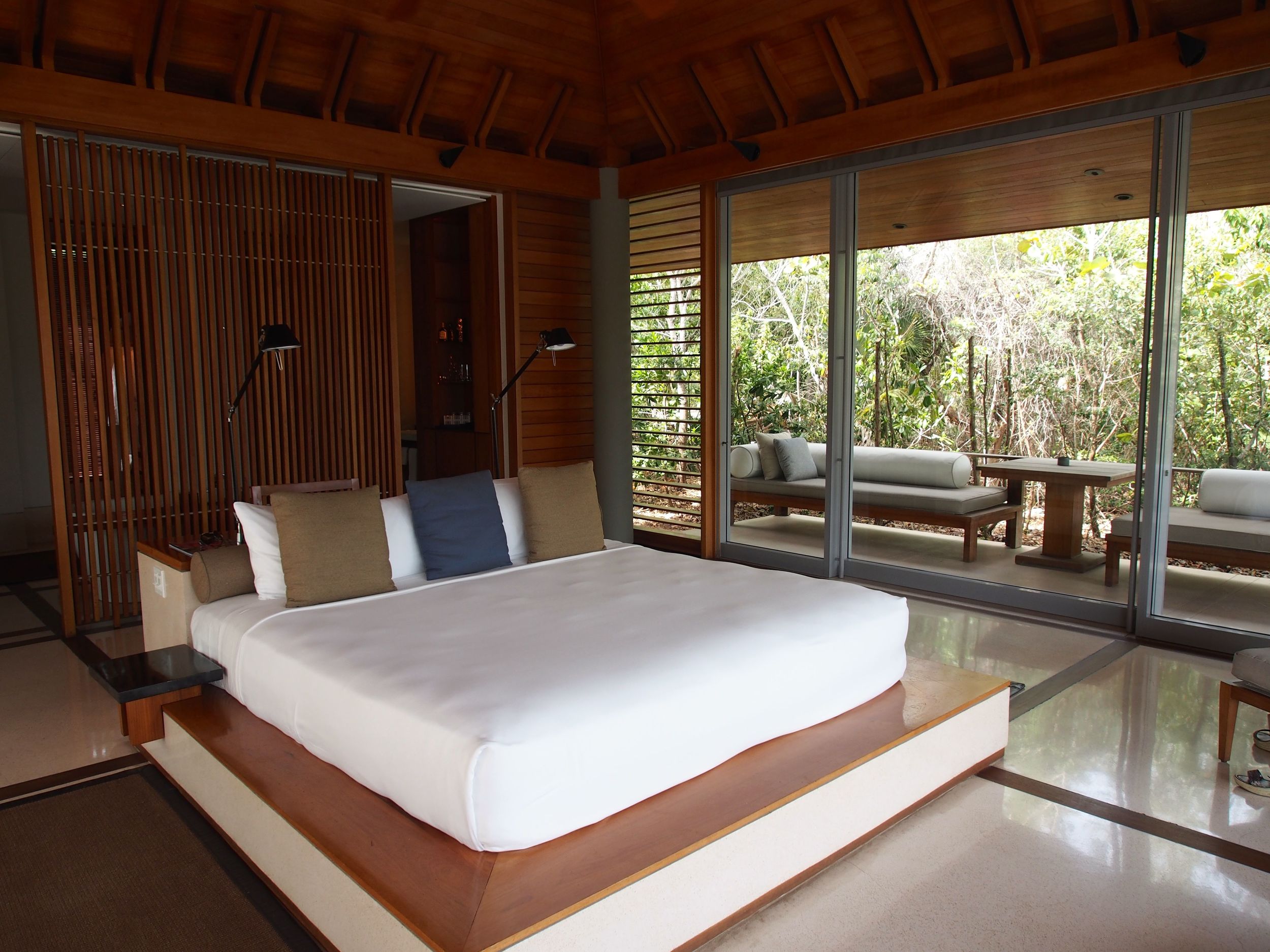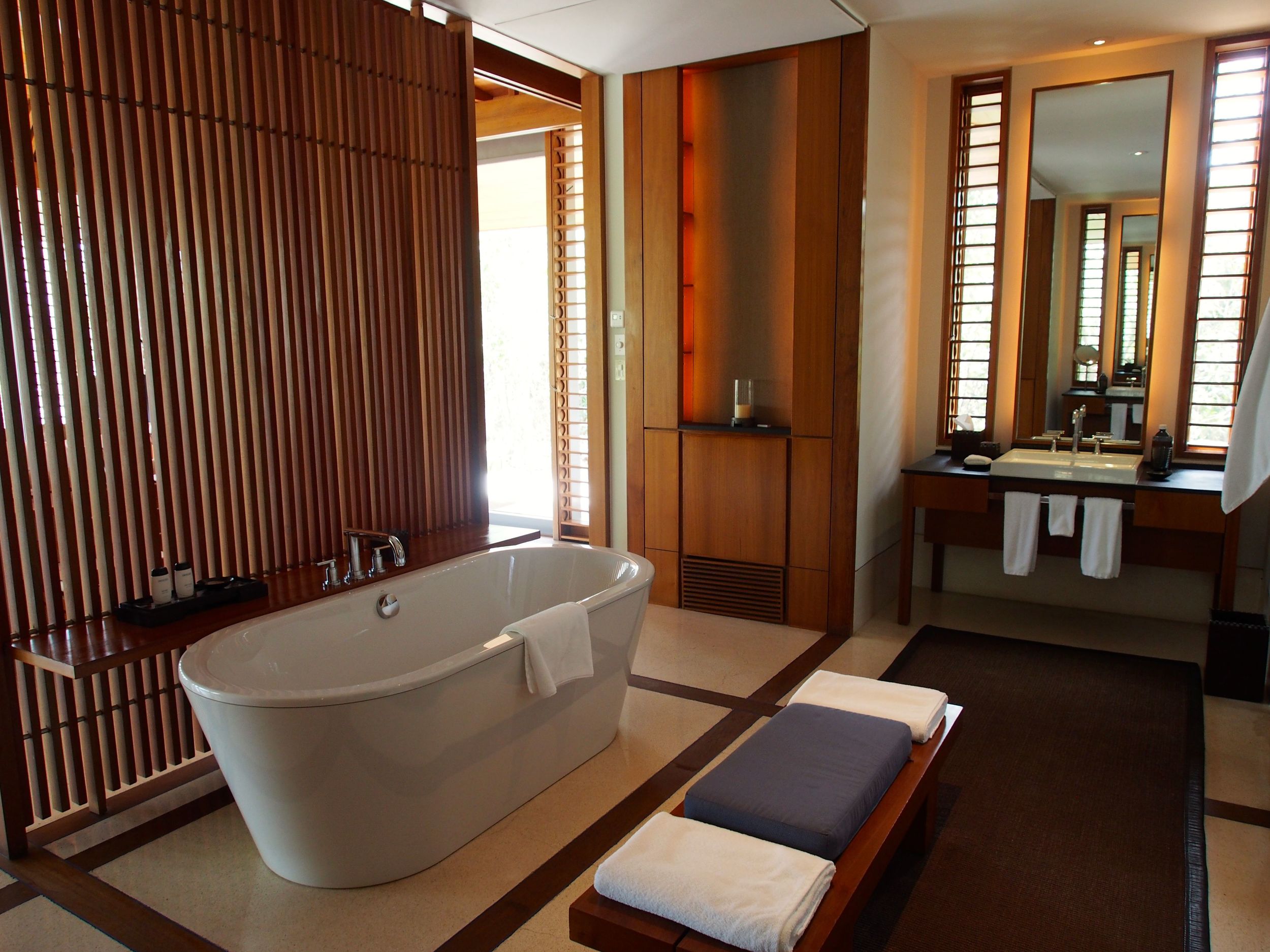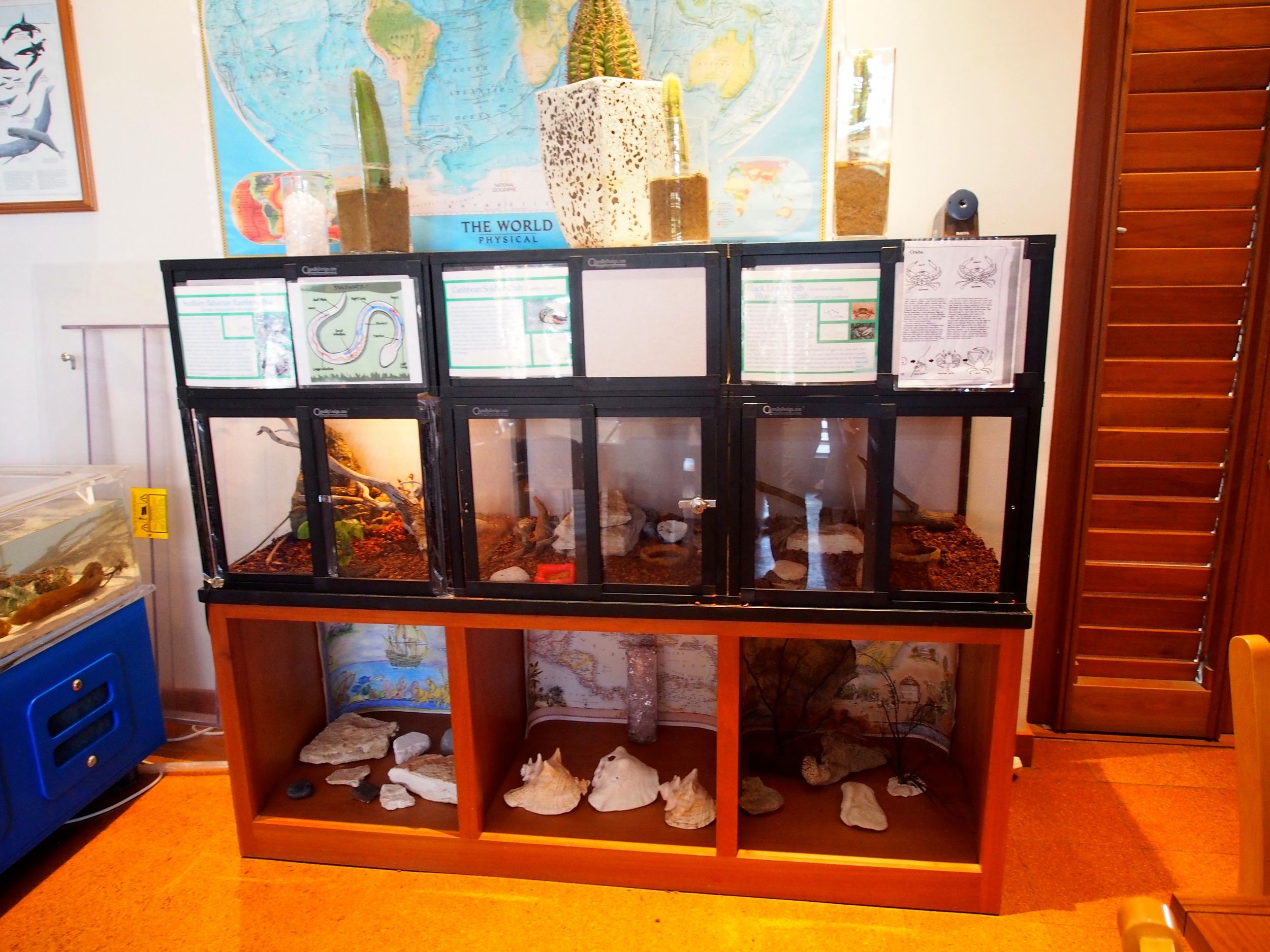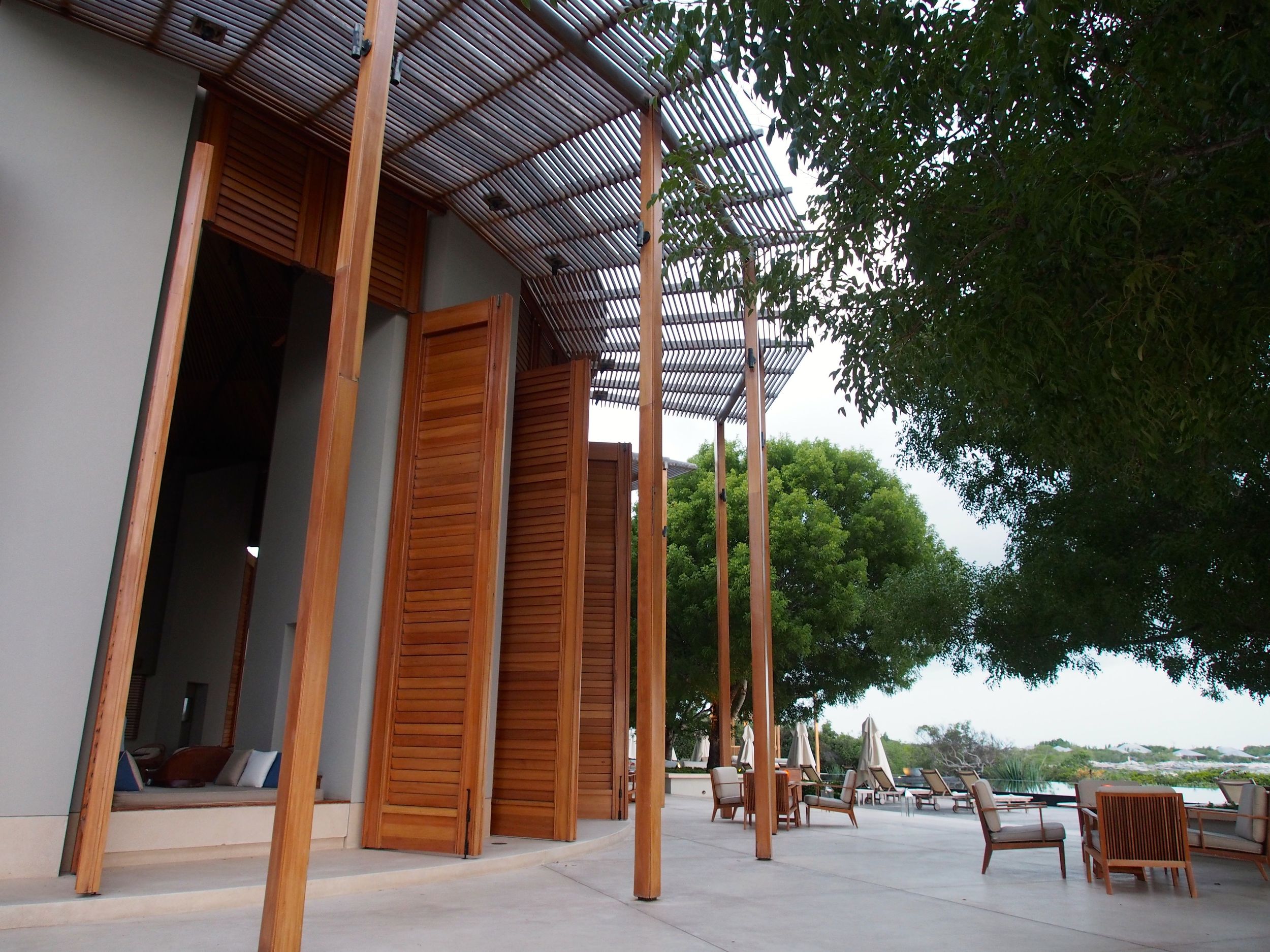 Amanyara sends a sporty and luxurious SUV to pick me up from my Hotel in the Grace Bay Area. The 45 minute drive to the Resort allows me to see a part of the island I have not yet visited and I realize that Providenciales is quite spacious for its 22,000 residents. Suddenly the highway ends and the vehicle makes an abrupt left on to an unpaved and winding road. I notice there are no signs or lights along the way and idly I wonder if the Driver knows where he's going. Turns out to be a subliminal metaphor for the Resort as it's perfect for people who want to get "lost" and feel completely removed from the bustle of everyday life, transported to a cocoon of privacy. We pass through a security checkpoint and soon we're pulling up to the entrance of the Hotel where a team of people, including the Resort's Manager, Sven Van Den Broeck, is waiting to welcome me. It feels a little formal but friendly and I'm immediately acquainted with the level of personal service that is the hallmark of the Aman brand. Amanyara wants you to know, as soon as you step through its doors, that you are a special guest.
There are no conventional "rooms" at Amanyara. Accommodations are offered in one of the 40 freestanding pavilions situated down private pathways in dense vegetation around the resort. There are two 2-bedroom pool suites that include a lounge, nanny's room, exercise room and 60 ft pool. Take your flashlight when you leave for dinner as it's just you and the moonlight on the trek back to your door. All of the pavilions are identical in layout and the categories are differentiated by location and views – pond, alcove and ocean. The pavilions have glass walls (automatic shutters can be used in the evenings) and are very large and attractive spaces. There is a complimentary mini bar in each, stocked with juices, soft drinks, assorted bottled water, nuts and cookies. Guests can make free telephone calls to anywhere in the world. Bikes are available to travel around the Resort but I utilized the services of the golf carts that arrived almost immediately after a call to the Reception Area.
Large travel parties have the option to rent a 3-5 bedroom villa. The bedrooms are detached from the main living pavilion that includes a full kitchen and a private Chef. A complimentary golf cart is assigned to the villa.
The spa is a beautiful, Zen space with a massive square pool in the center for Aqua Therapy treatments. I was particularly intrigued with the description of a massage involving "Tibetan singing bowls".
The Nature Discovery Centre houses the Kids Program and is an interesting and comfortable place for the children to spend a few hours. In addition to outdoor activities, children have the opportunity to learn about conservation and enjoy the resident pets in assorted aquariums.
There are extensive facilities for tennis lovers - 4 clay courts and 1 youth mini-court and guests can arrange private lessons with a Pro. Older children can enjoy a Games Room outfitted with a Pool Table, Foosball, Table Tennis and Shuffleboard.
I ate dinner in the Main Dining Room and lunch at the Beach Club. The menus offer Asian and Mediterranean dishes and plenty of seafood options in addition to casual fare like pizzas and salads. There are no convenient, alternative dining outlets close to Amanyara and food, while good, is not inexpensive. Seasonal promotions that include some meals or a full meal plan offer considerable value for this Resort.
Amanyara is visually stunning, presenting a photo opportunity at every turn. It is also very, very quiet despite the presence of young families.
Service is warm, attentive and discreet and possibly best summed up in my luggage experience. Before I left my pavilion for the airport, I ripped off the inbound airline's sticky luggage label from my suitcase. As I was checking in for my flight, I glanced down and noticed a fancy, blue, leather-like tag marked "Amanyara" attached to the handle of my case. Neatly typed inside the flap was my name and home address. The subtle attention to the details of the client's experience is the very thing that resonates during a stay at this Resort.
Rates at Amanyara include private airport transfers, non-motorised water sports, daily snorkel trips, use of tennis courts, equipment, and lessons, regular yoga classes, private bar (except spirits), afternoon tea, in-room wireless internet access and all telephone calls. When booked through me, complimentary Virtuoso amenities are included:
• Upgrade on arrival, subject to availability
• Continental breakfast daily, for up to two in room guests
• A la carte lunch for 2 persons, once during stay (excluding alcohol, taxes and gratuities)
• Early check-in/late check-out subject to availability